Big Experiment #8 brought to you by...
Looney Labs: Andy Looney, Kristin Looney, Alison Frane, Robin Vinopal, Carol Townsend, Craig Forbes
Rabbits: Steven Black, Nathan Dilday, Elliot Evans, Jay Forbes, Emily Frawley, Mary Hooker-Myers, Ryan McGuire, Jared Newbold, Lisa Padala, Diane Sudduth, Tucker Taylor, Kimberly Terrill, Shane Tilton
Recycling this year by the convention center! Thanks for all your hard work, 'Becca!
(Are you a Rabbit who wants to help plan Origins? Email your Rabbit URL to Carol and she will add you to the Origins discussion list.)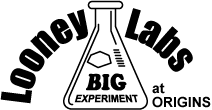 July 5 to July 8, 2007 at Origins
Columbus Convention Center
400 N High Street, Columbus, OH 43215
Sign up today!
Looney Labs is sponsoring 73 events and scheduled demos. You have a chance to win one of 44 different Medallions. View the web schedule and start planning your weekend.
Registration is now open at the Origins registration page. You can purchase your Big Experiment Ribbon in advance.
The Ribbon will get you into any of our events. Register for events in advance at no additional charge.
Also read about the Little Experiment we'll be running at Origins. Participate and win your very own exclusive Fluxx promo card!
Origins is going to be the best ever. Lots of Events, lots of Rabbits, lots of different things happening, including:
Are You A Werewolf, back again as a convention-long tournaments
Floating Tournaments - see someone with a Ribbon and play a quick game. Anytime. It's that easy. Floating Tourneys include: Binary Homeworlds, Volcano - and as an experiment for this year: Treehouse!
Andy vs. Everybody. 3:00 every day. See Andy run around like a madman!
Rabbits in the Kids room, Rabbits in the Teacher's Seminars, Rabbits in the Hallways playing Giant Pyramid games.... Rabbits will be popping up everywhere!
Sign up on the Origins mailing list to get in on the discussion. Check out the chedule for details. And email Carol if you want to help!

Once the event is over we'll be adding more info here … please check back.

How to find our events at the Origins web site...
You must first register for Origins
and then buy a Big Experiment Ribbon
Go to the Origins event sign-up page
Click "Search" and search on "Looney"
All Big Experiment events will be listed in the results.
If you have the ribbon, there will be no charge to add any of these events to your schedule!
See you in Ohio!
Read about 2006's Big Experiment:
Other Big Experiments: