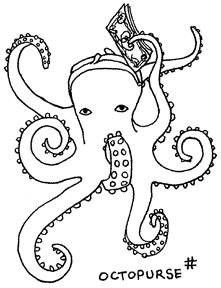 What's this Jen Kolodner has found, hiding in a reefside nook? Another tentacled Animeld! Looks like it's in the money... and the money's in it!

I continue to welcome suggestions to this collection, so send them along! Warning. Once you see these you may find yourself thinking up new ones at all hours of the day or night. They can be addictive. Here's how they work.

The rules: Change one letter in an animal name so that it has the name of an object within it. This can be a substitution (the most pure form) or the dropping of one letter, or the adding of one letter. These are marked with an asterisk (*).

A two-letter change (of any type) is allowed (but not quite as cool). These are marked with a number sign (#).

These should be animals melded with objects (not adjectives or concepts).

The Exceptions: Some Animelds are not marked with anything. Usually this is because they have a change of more than two letters, but sometimes there's some other reason. I'll usually discuss it in my commentary.

Try to follow the rules. But hey, if it's neat, send it to me anyway. If it sparks my visual inspiration, you may very well find it added to this page (with attribution, of course). Please do check out the archives -- the list of already-discovered Animelds is getting pretty long.