---
Well, at long last, I've got some extras for the cool words. Crazy sentences (or paragraphs, if I really get out of hand) using previously featured cool words, with illustrations, (and translations) as well as the pertinent definitions. The small number after the selection indicates the number of cool words featured therein.
---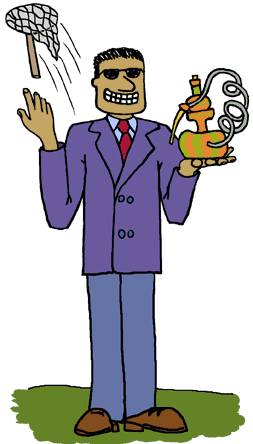 Life is palmy for Bob, quondam bandicoot exterminator, now quite the nabob, since switching to selling narghiles and hubble-bubbles. (6)
(Life is prosperous for Bob, former giant rat exterminator, now quite the bigshot, since switching to selling hookahs and water-pipes.)
palmy
(pahl'-mee) adj. 1: flourishing, prosperous. 2: triumphant.
quondam
(kwon'-dum) adj. former; sometime.
bandicoot
(ban'-di-koot) n. 1: a name given to Mus giganteus, a very large rat of India and Sri Lanka; it is as large as a rabbit and very destructive to growing crops. 2: an Australian marsupial of the genus Perameles, resembling the bandicoot of India. [from Indian pandi-kokku "pig-rat"].
nabob
(nay'-bob) n. 1: any very wealthy, influential or powerful person. 2: (formerly, in Britain) a person who had acquired a large fortune in India.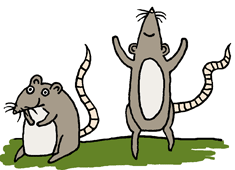 narghile
(alternate spellings: nargile, or nargileh) (nar'-guh-lee, or -lay) n. a tobacco pipe in which the smoke is drawn through water before reaching the lips; a hookah. [from Persian nargil "coconut," from which the bowl was formerly made].
hubble-bubble
(hub'-ul-bub'-ul) n. 1: a flurry or sound of activity; commotion. 2: a water pipe.

Life is also palmy for the bandicoots...
---
The mansuetude of my ophidian companion is largely due to his hebetude and gormless nature. (4)

(The tameness of my serpentine companion is largely due to his lethargy and stupid nature.)

mansuetude

(man'-swet-t(y)ood) n. the quality or state of being gentle: meekness, tameness.

ophidian

(oh-fid'-ee-an') adj. of, relating to, or resembling snakes.

hebetude

(heb'-uh-t(y)ood) n. lethargy; dullness.

gormless

(gorm'less) adj. lacking intelligence: stupid.
---