FAMILY REUNION AT SKYLAND--November 10-13, 2002, by Ruth Looney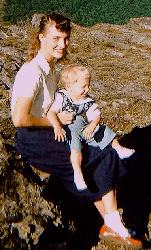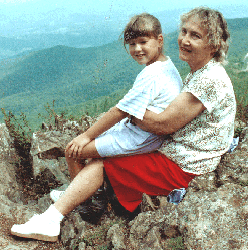 For 50 years this Fall, Ches and I have made it a practice to visit Shenandoah National Park once a year or so. In 1952 shortly after acquiring our first car, we took our first and at the time only child to the Skyland Resort and stayed in a room in one of the cabins and during the day did some hiking and mountain-climbing. A photo of me holding toddler Howard atop Little Stony Man Mountain is a souvenir of that trip. Later we re-created that moment with one of me holding granddaughter Sarah.

Other nostalgic memories include that of a 3-day trip with 3 little boys where it was too foggy for much sightseeing but we holed up in the cabin and entertained each other with stories between trips to the nearby dining hall. Driving up and then back down into the valley we saw and appreciated the views of Fall foliage that we had not been able to see up on Skyline Drive.

On another occasion we had a rendezvous with the Fey family who were then our neighbors in Glassmanor. We took over a cabin and ate snack meals there or picnicked. We also ate out including a trip once down to Luray to eat fried chicken at the Mimslyn Hotel. Each family had 2 children then. We teased Howard for years about having shared a bed with Nancy Fey; each was about 3 years old at the time! Jeff was expected, but that gave me no excuse not to exercise, so I made that a time for the easy climb up Hawksbill, the highest mountain in the park.

Last Fall Ches and I once again booked a room at Skyland in a lodge called Shenandoah which has a glorious view of the surroundings and the valley below.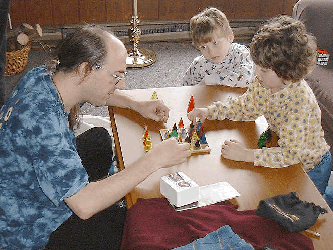 Thereupon he determined to share the place with the family and as soon as possible reserved the whole complex of 5 bedrooms and a sitting room with fireplace and an adjoining kitchenette. We'd had family reunions on boats, trains and planes and at the beach, each delightful in its way but no big gathering in the mountains. Granddaughter Sarah and daughter Kathi were unable to join us, but Richard and girlfriend Marlene had their airline reservations for the trip. Richard came in late Friday and spent Saturday in the D.C. area. Sunday after breakfast at Denny's, Ches drove the 3 of us to Skyland, where we arrived in time for lunch at the Skyland dining hall. Ches wanted to check in early, but while our roomswere being readied, we passed the time by waiting in the office next to the dining hall. The view is great, and the waiting room has a fireplace, overstuffed furniture and a TV where Redskins fans watched in disappointment as our team scored one touchdown, making it look easy, and no points thereafter. We weren't disappointed in our rooms, however, especially the sitting room where we gathered, kept the fire stoked and entertained each other while watching the ever-changing view. Our 6-year-old twin grandchildren Sharon and James really had a ball learning and playing the games created by Andy & Co. Grandson Eric enjoyed them, too. Some of the folks walked to the dining hall or other points of interest. Ches and I, having had a big lunch, elected to drive over after dark and have a snack supper while listening to the evening's live entertainment.
Monday morning some of us ate at the Skyland dining hall, while others fixed food in the kitchenette. Some of us were back for lunch, especially those of us having a great fondness for their blackberry cobbler a la mode.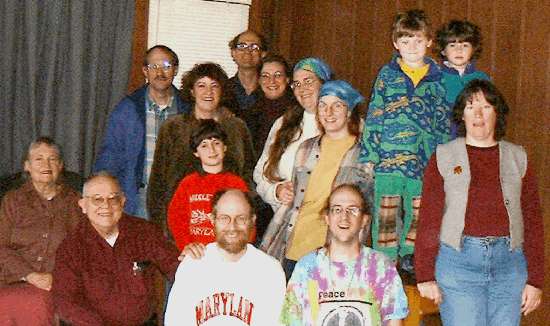 Marlene arrived by car mid-day. The rest of us had driven in sometime the day before. There were now 14: 12 of us Looneys, Marlene, and Andy's and Kris's housemate, Alison Frane.

Ches and I drove over to the Big Meadows visitor center, looked at the exhibits and watched part of a movie about The CCC. boys who built Skyline Drive. We'd seen it before, so Ches claimed I slipped in there to take a nap! I woke up during the part where the old CCC boys were being interviewed. When the interviews were over, a bit of an old "Jeopardy" show came on. It had been on the tape before the interviews. Eric, who was there with Howard and Leslie, was also sorry there wasn't more of it and less of the interviews.


The glory of the late afternoon was a gorgeous sunset which we watched while getting ready for Andy's belated birthday supper.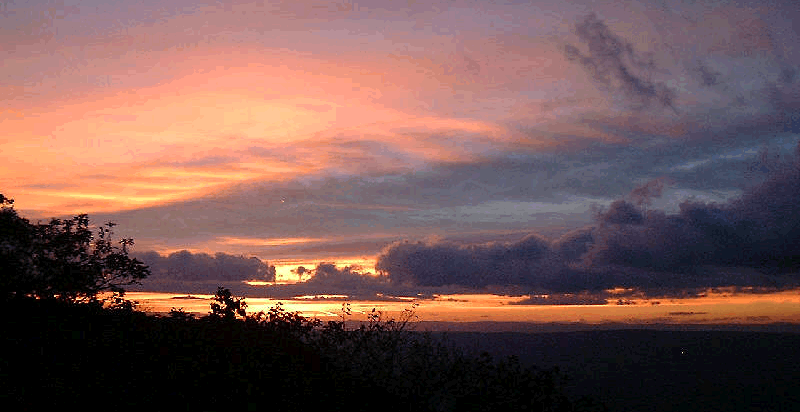 | | |
| --- | --- |
| | Getting a reservation for 14 wasn't as hard as we'd feared, as many folks cleared out at the end of the Veterans' Day Weekend. We had delicious food and good service and then went back to the lodge for gift-giving and a chocolate angel food cake (Andy's lifetime favorite). I understand that Alison is to be given credit for bringing the cake, but I can take credit for remembering to bring a birthday cake candle! By the time we were finished with that, the old folks were ready for bed, but the young ones stayed up and socialized some more. |

The next morning we were obliged to pack up and head for home. Some of us, though, went for another mountain breakfast. Ches and I, not feeling we exactly deserved it, went for another "Happy Hikers" breakfast anyway. The College Park folk wanted to eat at the Frost diner on the way home, so they left. As I recall, the Middletown folk left, too, but the rest of us hung around for another Skyland lunch. Then Richard and Marlene headed North, and the rest of us went South with Judy driving and leading the way. The reason for our making the detour was that Ches was bringing some computer components and wanted to see that they were installed and working right, mainly for Judy's benefit as Jeff has access to a computer at work. James entertained me while Sharon took a nap. We were still home at a reasonable hour, delighted with our latest family reunion and already planning another one at the same place.