Origins '99 Photo Album by Andrew Looney
Well, we're back from Origins, where we had a totally great and totally exhausting time. Here are some photos from the event, along with a bit of commentary.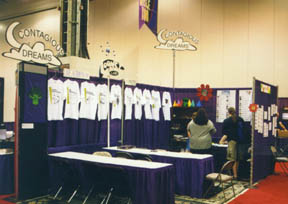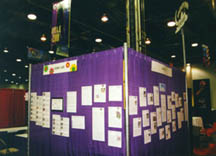 Here we see the Looney Labs/Contagious Dreams booth in the calm before the storm, just before the exhibit hall opened. The booth consisted almost entirely of demo tables, along with a checkout area at the back; what you can't see in these pictures is that we also had access to a "walk-in closet" sort of space, behind the curtain, where we stored our inventory of product for sale. Around on the back side of the booth, we had rigged up a display with mounted printouts of all the reviews from the Contagious Dreams site. This way, visitors to our booth could browse the "website" on their own, hang out at the demo tables looking at and trying out whatever they were most interested in, and then hopefully buying a copy of whatever they liked best.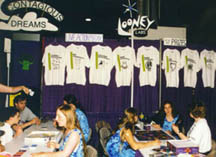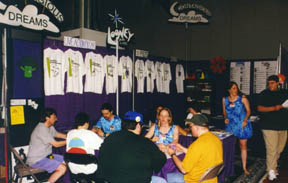 ...and here we see the theory put into practice: our booth filled with gamers, trying out the games. In short, it was a great event: We had many, many visitors and everyone was excited by the concept of Contagious Dreams; we did gang-busters business, selling a little of almost everything and selling out of a few items; and we all had a simply splendid time.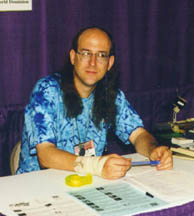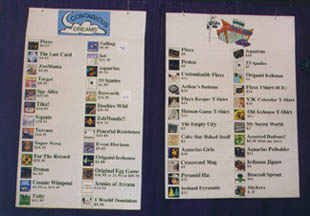 The checkout counter was primarily manned by yours truly; above my head were 2 menu boards, one listing all of the products for sale in Contagious Dreams, the other focusing just on Looney Labs publications. This information was also available in a pair of flyers we were handing out.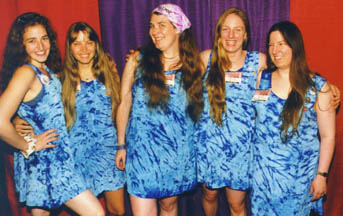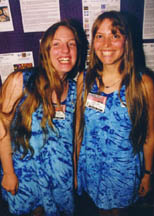 Our booth staff (consisting of a bunch of our friends in the Wunderland Toast Society -- thanks again you guys!) wore matching tie-dyed Contagious Dreams outfits - T-shirts for the guys, and summer dresses for the girls. Here you see our lineup of fabulous long-haired booth babes: Renee, Gina, Kristin, Alison, and the Other Kristin.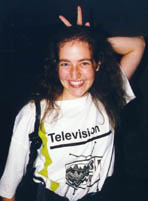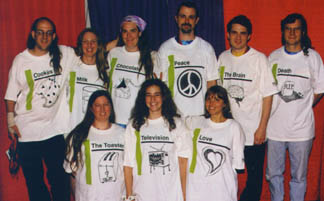 Another thing we were doing involved our new Fluxx Keeper T-shirts. You can see them hanging along the side curtain in some of the earlier photos, a set of nine different shirts. Here you see our full staff modeling the shirts: Cookies (Andy), Milk (Alison), Chocolate (Kristin), Peace (John), The Brain (Jake), Death (Chort), The Toaster (the Other Kristin), Television (Renee), and Love (Gina). We still have some of the shirts left, and we'll be making them available for sale on the web in the next week or so, after we've caught up a bit from the show. We'll also be making the buttons we were giving out at the show available. Stay tuned.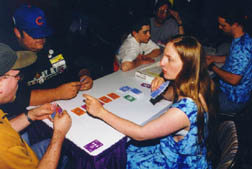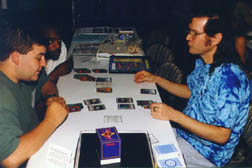 Nothing sells a good game better than a demo, and our demo tables were in almost constant use during the show. Moreover, a number of the Dreamers whose games we carry were on hand demoing their games, both in our booth and at official convention events which they had set up on their own. As a result, we sold out of One World Dominion twice, as well as selling through a lot of copies of Target, Super Nova, and Armies of Arcana, all of which were being demoed by their inventors at Origins.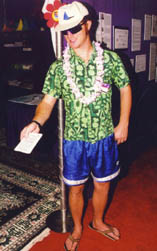 Our booth also sported new 2-sided signs for Contagious Dreams (made by Alison), a flyer-distributing mannequin (portrayed by Alison's brother Alex), and a new run of plush icehouse pieces, now styled as Iceland characters (made by Carol Kocian). Look for these guys going on sale here on the web soon too.
---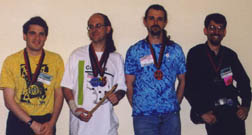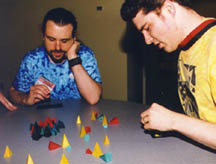 Origins was also host to the Tenth International Icehouse Tournament, orchestrated this year by Jake Davenport. Although small, the competition was fierce and the games exciting. And I'm just pleased as punch to report that I was the winner! Read more about it on the Tournament Almanac page.
---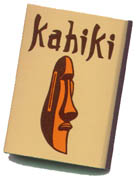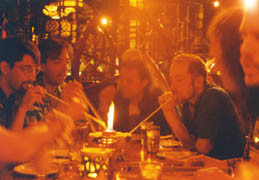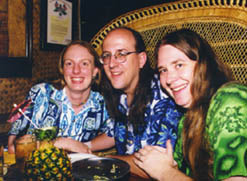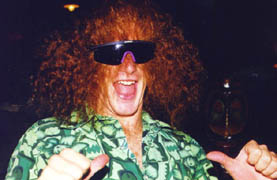 Lastly, Columbus is home of The World's Most Beautiful Polynesian Supper Club, the fabulous Kahiki, and a festive meal there is now an annual tradition for us. If you like tikis like I like tikis, make sure you visit this place the next time you are in town.
---
Contagious Dreams.com sells really cool games made by really small companies. Please tell your friends about us!