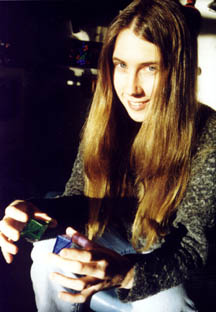 Hi! I love to play Fluxx and Aquarius. I am writing the Looney Labs business plan, and was encouraged by the Loonies to become one with the Wunderland Toast Society. My name is Leslie Burgoyne and I am in college at the University of North Texas, studying "Production and Operations Management." I will have my bachelors degree May 2000, and will hopefully continue into graduate school and be finished with my MBA by May of 2001. I am the last of my mom's five daughters and the first to go to college.
I live in Denton, Texas. I am taking a double-load of this and last semester, 21 credit hours, of senior level classes. I also work three days a week in a machine shop in Fort Worth. On top of everything else, I am very politically active. I usually have two to three meetings a week for the various organizations I am an active member of. These organizations include: the Green Peace Party, the Women's Collective Movement, the Drug Policy Forum of Texas, the National Organization for Reform of Marijuana Laws, Association of Student Activists for Peace, Student Peace Action Network, and Students for Sensible Drug Policies. I remain a constantly busy person. Some people would consider my regular schedule suicidal. But, I am very energetic, and only truly happy when I have a lot on my plate to keep me busy. I think boredom is depressing.
In the future, I would like to be my own boss. I don't necessarily want to go in business for myself, not for a while at least. I would really like to have my own factory making stuff. I would like to run some kind of a manufacturing facility, producing consumer durables preferably made of hemp. I'm firmly convinced that industrial hemp is the agricultural and consumer product of the future, and I hope to help lead the industrial hemp revolution.
My favorite thing in the whole world is sensemilla. I am a multi-daily cannabis consumer and am still able to achieve anything my heart desires. I know the rumor that pot makes people lazy and unmotivated is just not true. I wake-and-bake practically everyday and still manage to get a lot of things accomplished. It is my favorite thing to eat, to smoke, to wear, to play with... I use hemp shampoo and conditioner, hand lotion, lip moisturizer, soap... I eat hempzels, cook with hulled hempseed, own four pairs of hemp jeans, hemp panties, and a custom-made hemp professional business suit! I think everybody could use more hemp.
I like other things too, like: ballet, obscure tattoos, Italian food, red pubic hair on skinny guys, freckles, long hair, peanut M&Ms, and staying up all night and sleeping all day. My musical interests include: Tori Amos, Tool, Pink Floyd, Phish, Ani Difranco, Suzanne Vega, Bob Marley, Sublime, Madonna and anything else that makes me shake my bootie, excluding country and rap music.
NEW: My report on the NORML 2000 Conference!