| | | |
| --- | --- | --- |
| | Number 12 | |
Hello all and welcome to my most excellent web page! My goal in adding this page to the WTS is to entertain my fellow toasters, and maybe even a small segment of the rest of the Web. I'll endeavor to add something new every week, so keep checking in, or look for any announcements about my pages in The Wunderland Weekly News.
My offerings will fall into two categories: First, original works; artwork, music, photos, or writing that I'm collecting here for self-publication on a scale unimaginable a few years ago. Hopefully, the world's collective yawn won't totally blow me over, but I think you'll enjoy it if you've gotten this far. Second, Stuff I Found On The Web, brought back and held up to the light for your enjoyment. There's a whole underground world of music publication on the Web through a device called "MIDI", and I have a link page or two of my favorites for you to cruise. Also, in commenting on an issue or interest of mine, I'll write some essays filled with links for you to read.
Go directly to the corners of my electronic world by using the navigation bar appearing at the top of this page, or jump down below this section to find out what I've added this week. I'll also be experimenting with time, allowing you to scroll through previous weeks' versions of my pages where appropriate.


---
Here is this week's nanofic:


Barfly
Louann was a hopeless failure. She washed away the useless hours day and night in a dark roadside bar, going home to change clothes only occasionally. One day the regular barmaid failed to show, so the owner had Lou serve herself. She began to work there regularly. Ten years later she's still there, a success.
Oh migod! The "Scooby Doo" versions of the gang on That 70's Show were so funny! I even watched it frame by frame just to get all the background details.
Well, I've done a few neat things in the past few months. However, I'm particularly proud of my work this valentine's day. In addition to the usual dancing that I take Lisa to on this occasion, I made a wrist corsage for her to wear! After staring at the florist's book for a minute or two, I designed how I could make one out of flowers purchased relatively cheaply piece-wise, and the finished product you see below was a big hit. It held up pretty well during a whole night of swing dancing too; the picture was taken after we got back. They have little roses now called "spray roses" which have several buds to a stem. Who knew?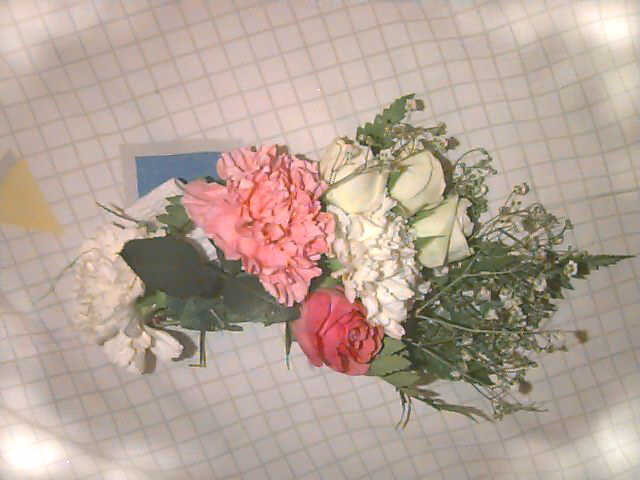 The corsage! (Pardon the rough touching up.)





Charles


Other corners of my annex:
Play my MIDI links!
(why and how)
f1.7, Charles Dickson's Photo Essays
Future Links:
The Lisa Joy Adulation Page
Original Music by Number 12
Show Me Your Bus