| | | |
| --- | --- | --- |
| | Number 12 | |
Hello all and welcome to my most excellent web page! My goal in adding this page to the WTS is to entertain my fellow toasters, and maybe even a small segment of the rest of the Web. I'll endeavor to add something new every week, so keep checking in, or look for any announcements about my pages in The Wunderland Weekly News.
My offerings will fall into two categories: First, original works; artwork, music, photos, or writing that I'm collecting here for self-publication on a scale unimaginable a few years ago. Hopefully, the world's collective yawn won't totally blow me over, but I think you'll enjoy it if you've gotten this far. Second, Stuff I Found On The Web, brought back and held up to the light for your enjoyment. There's a whole underground world of music publication on the Web through a device called "MIDI", and I have a link page or two of my favorites for you to cruise. Also, in commenting on an issue or interest of mine, I'll write some essays filled with links for you to read.
Go directly to the corners of my electronic world by using the navigation bar appearing at the top of this page, or jump down below this section to find out what I've added this week. I'll also be experimenting with time, allowing you to scroll through previous weeks' versions of my pages where appropriate.


---
Here is this week's nanofic:


The Working Life
I worked in a glittering castle, selling clean white clouds from a pushcart in a spacious square. But to get to work I had to drive through choking smoke and come in the servant's entrance. Eventually I quit and took a better job, crawling in the dirt and helping the yellow flowers grow.
What happened to me this week: Not much, had a pretty good week nonetheless. I've got a huge pile of nanofics now waiting to post. Pretty strange when I think about how tired I'm getting of the format. Too bad I don't feel like putting in the effort toward something longer. But they're getting easier; today's was written scant hours before my weekly update and pre-empts my previously intended selection. I've busted through the scab!
I made a fountain this week, another item on my big list of things I've been thinking of trying. It's a very simple rock-with-a-hole-in-it-that-water-bubbles-up type, but I like the way the water flows down the rough sides of the stone. I'm thinking of adding some plants or something; here's a picture: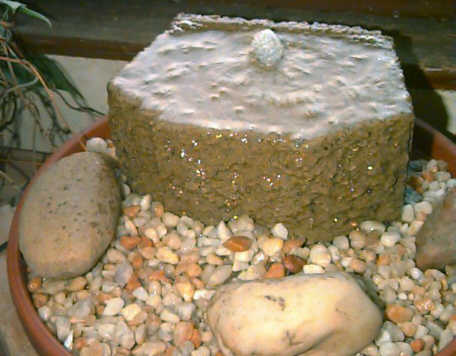 My first fountain.



Charles


Other corners of my annex:
Play my MIDI links!
(why and how)
f1.7, Charles Dickson's Photo Essays
Future Links:
The Lisa Joy Adulation Page
Original Music by Number 12
Show Me Your Bus