February 25, 2010
The Power of Pink, in Salon, is where we learn about how the newest Chicago metrorail line received that color. (CTA map, in .png format.) Knew they already had a Brown Line, and Tokyo subway maps also show a pink line, although there they use names instead of colors as the designation.


And speaking of Japan, here's your chance to see a tribute version of We Are The World. For describing it, you may require their word for black-face, ganguro.
February 21, 2010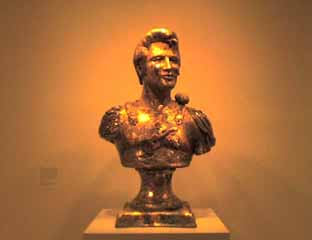 Returned from a week Back East, DC and NYC. Washington area had had a big snow just before my arrival for the Christmas holiday, and they had an even bigger snowfall just before my arrival this time; but both had little impact on my movements, just looked wintry. Great art in DC at the National (the Chester Dale collection) as well as the Portrait Gallery, which now has a small Elvis room. (Photo, 1978 bust of Elvis, as a Roman, by Robert Arneson.)

Was in town for the big family gathering to celebrate my parents' 60th anniversary; went very well. Thence up to New York, driven by brother Andy in the van to break down the Wunderlanders' booth at Toy Fair. Three other booths which caught my eye: one had a laser-planetarium product which sprayed moving points of green light all over (didn't note the company, unfortunately); Bridge Street Toys, which has resurrected Kenner's Girder and Panel (and Hydrodynamic) systems; and Hi-Tec Art which makes LED toys, most noteworthy a 'stick-in' Lite Brite.

After farewells, walked across town to my hotel, Ye Old Calton Arms, an old, arty place located caty-corner aacross 25th from the Armory. All interior walls decorated by an assortment of artists, recommended if you can get an inside room. Mine wasn't; they gave me a choice of three but all faced Third Avenue. No elevator so I chose the lowest, consoling myself that at least the El wasn't running right outside my window anymore, as it used to.

Last morning, after dawdling in nearby Madison Square, rode the subway up to 112th Street to inspect the cathedral of St.John the Divine and (like the mysterious black one in Linz that late winter afternoon in '96), I had the huge structure almost entirely to myself. Afterwards, breakfast across the street at the Hungarian Pastry shop, and then by bus to Laguardia and westward flights home.
February 12, 2010

Back East tomorrow for parents' anniversary and then a day or two in NYC, updates here probably not possible until the return.
January 27, 2010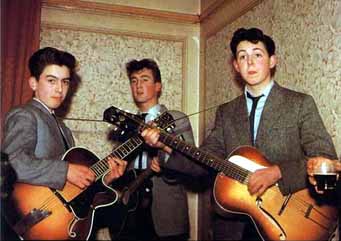 January 23, 2010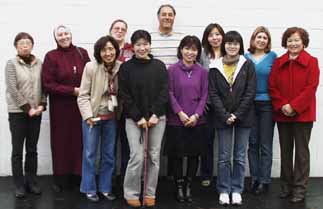 My morning conversation class, which ended Tuesday; the last of these I'll be running for a while.

January 17, 2010
January 10, 2010
Roger Ebert, thyroid cancer survivor, can no longer eat, drink, nor speak, but he can still blog and in that entry, the topic is food.


Today I saw Shun Yen Performing Arts and found it quite entertaining. Wish I'd been told beforehand it was the Falon Gong booster show, but then I wouldn't have gone.
January 7, 2010
Tomorrow morning, a tooth extraction... no choice, fractured root, #2, which is next to the former home of #1, the upper wisdom tooth -- lost both of those in the 1990s, so this is the third to go. Fortunately, #13, which fractured last summer, was saved by my West Coast dentist with a crown which my back East dentist didn't favor, said it should really get an implant, which would now be an option for #2 as well. Stuff's expensive though, insurance doesn't cover it, and the technicalities of that procedure kinda creep me out.

With four classes now saturated with the Asian names, too many to remember, and it seems the K-Girls all have the same name! Well, not all of them, but in just one class, these are Korean women: Young, Younga, YoungNan, two Kyungs (although one goes by the nickname Bona), YoungSu, YoungJu and Mikyung. Those last two torment me as their appearance is similar and they always sit one behind the other. Young also had a nickname, but I think she's dropped out.
Update: YoungEun has now joined this class.

January 1, 2010
Made a lot of these, with plastic drinking straws and string, up until about the 10th grade; nowadays they're extremely rare but I constructed this one on Christmas Eve, for Wunderland. Happy New Year!

Photo by Andy
December 18, 2009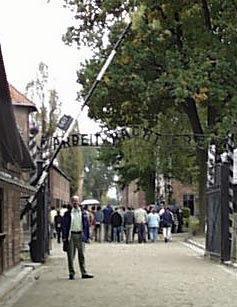 Something I've only heard mentioned there was why the B's upside down -- an act of resistance by inmates at the camp workshop where it was made. Now the sign's been stolen and Poland's in a State of Emergency! Click the thumbnail for an alternate, closer view, which I've hesitated to post since my expression is perhaps not somber enough given the location.

December 12, 2009

Palm Springs supermarket, 2004
A better photo for today would've been some airport scene but couldn't find so instead, palm trees.

According to Peter Sciretta, Only Eight of This Decade's Best Picture Nominees Are Original -

Gladiator, Gosford Park, Lost in Translation, Crash, Babel, Little Miss Sunshine, Juno, and Michael Clayton.

Does "Up in the Air" push that tally up to nine? Comments on that movie's music, at the beginning and the end: Richard von Busack's review laments the even better film which could have been, with for example, over the opening credits, instead, "The Big Country" by Talking Heads.

I see the shapes, I remember from maps

-- yes, one of my favorites. At the end, it was refreshing to hear "Be Yourself" off the first Graham Nash but from the same record I think "Man in the Mirror" has the more appropriate lyric

Though we live in the air I'm not sure that we're free.
December 6, 2009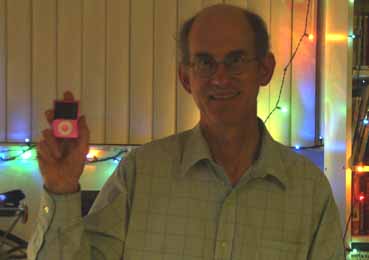 The iPod nano received as a door prize at the CPR class in March is finally full -- over 1600 songs, all hand-picked, most common sources, CDs from the library or my own collection; only a handful downloaded from Apple, Amazon or alternatively, some unknown source. Initially this loading was by ripping originals onto various external machines, until about midway through with my hardware upgarde when the Thinkpad's iTunes took over (so I don't/can't sync, but there are other ways). Behold, the RashPod, such a delight when played back now in Shuffle mode.
November 29, 2009


More spectacular Fall weather today, and the changing trees seem to be especially beautiful this year. This exhuberant specimen is right down the street -- in fact, it's obscuring my apartment building, there in the left background.

November 27, 2009
The media prattles on about Black Friday although the savviest shoppers know today's actually Buy Nothing Day but didja know it's also the National Day of Listening?

On the day after Thanksgiving, set aside one hour to record a conversation with someone important to you.
November 25, 2009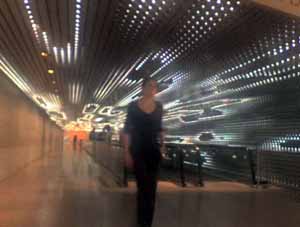 At an entrance to the underground tunnel connecting the old and new National Galleries of Art in Washington DC, cel-phone photo from last August. An artist named Villareal lined this tunnel (which also contains a moving sidewalk) with thousands of white, computer-switched LEDs last year, and unless saner minds prevail the authorities will be dismantling the installation real soon. It's called Multiverse, more info at Gizmodo.
November 19, 2009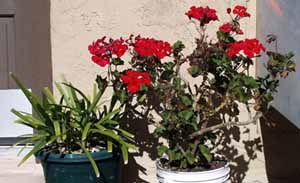 My plants.
Report: Ten states face looming budget disasters -- Arizona, Florida, Illinois, Michigan, Nevada, New Jersey, Oregon, Rhode Island and Wisconsin.


Related -- the Ten Happiest States are Utah, Hawaii, Wyoming, Colorado, Minnesota, Maryland, Washington, Massachusetts, California, and Arizona -- and the bottom of the list? The Ten Saddest states: Michigan, Tennessee, Oklahoma, Missouri, Indiana, Arkansas, Ohio, Mississippi, Kentucky, and West Virginia.


November 16 - Two Emperors

News photo from day before yesterday, story: Obama's bow in Japan sparks some criticism -- some say the POTUS shouldn't kowtow to any foreign sovereign, not even symbolically but it's not without precedent, apparently Nixon once bowed to Hirohito -- but you can bet this fellow never did: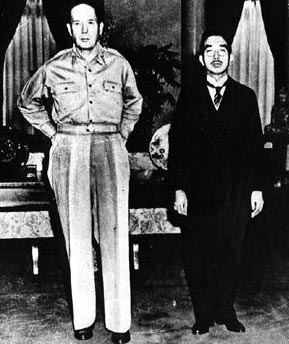 General Macarthur with the Emperor, September 1945
November 14, 2009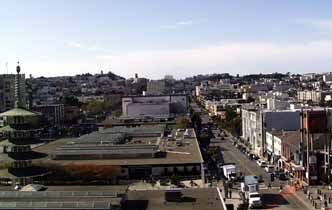 San Francisco yesterday afternoon, looking west down Post street from the 8th floor of the Kabuki Hotel in the Nihonmachi district.
November 7, 2009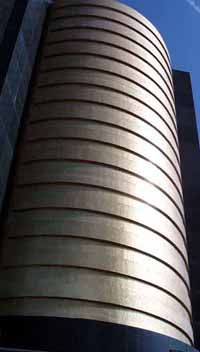 Back from another whirlwind LA tour. Here's a view from the driver's seat while waiting on Fairfax for the light to change at Wilshire, leaning out and looking up at the massive corner decoration of the old May Company department store. The building doesn't seem to be in use now but I believe it has landmark status, so can't be torn down. (Later I learned it's now part of the ever-expanding LACMA Museum of Art down the street.)


Meanwhile, some links have been piling up.

October 31, 2009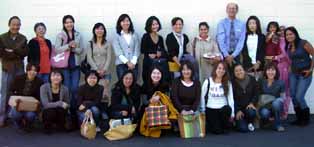 Great class ended last week, first conversation course of the school year, and the demographic of this one almost half Japanese. In the center, one of the Reikos is holding a plaid shopping bag from the Isetan department store, very common to see people carrying this bag in the Shinjuku district of Tokyo.

October 30, 2009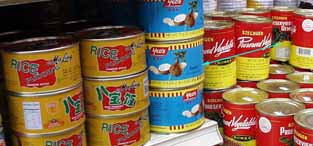 Cans of kaya at King's Seafood in Sunnyvale. (Posted for an AskMe question.)
October 28, 2009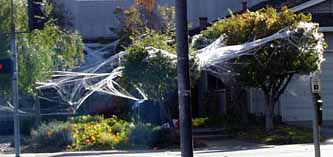 An example of why Halloween has become my least-favorite holiday -- the decorations are mostly tacky, aesthetic violations. Especially, this spreading around of cotton to simulate cobwebs -- looks instead like a severe infestation of tent caterpillers. "Trick or Treat!"
October 25, 2009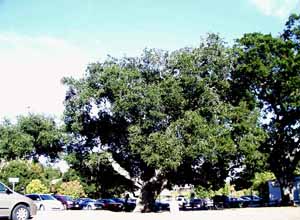 The majestic, spreading Bay Laurel across the parking lot from the Los Altos library. This was today; another, bigger view from a few days ago -- one of my favorite trees.
October 23, 2009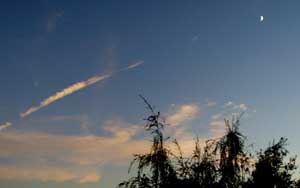 Tonight's sunset (with moon) from my front steps.

Have endured the colonoscopy and as was expected, nothing non-nominal was found. Still. now that it's over, glad my big intestine has been purged, feeling better -- that's been my experience previously too, during the similarly invasive visit by Dr Sigmoid in 2005 and the enematic 'lower GI' received in 1980.
October 21, 2009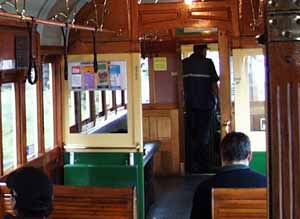 Aboard the Seattle streetcar, October 2004
October 19, 2009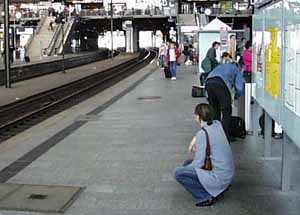 Down on the platform waiting in the Hamburg HauptBahnhof, 2005.
October 18, 2009
For a while here, I'm showing photos, old and new. Click for biggery.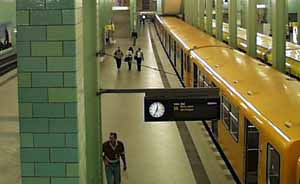 This is inside the Alexanderplatz U-Bahn station in Berlin, 2005.