The Wuppertaler Schwebebahn!
Kaiser-era monorail im Rheinland
In the Köln/Düsseldorf/Essen district of North Rhine Westphalia (NRW), don't miss a ride on the Wuppertal Schwebebahn, or suspended railway. I've been a few times, most recently in October 2005. Here's some thumbnails of photos I took then: click to zoom.
A familiar German logo is the white-on-blue "U" which indicates a U-Bahn station. (Untergrundbahn, metro.) Wuppertal was its own distinctive Schwebebahn signage.


Waiting on the platform at Hauptbahnhof station. An approaching train is announced by a series of distinctive pinging sounds emitted by the creaking steel track.


Looking up at trains

coming

and going.

Getting in close to examine the driving wheels.


Some views from the inside:

Passengers quickly adapt to the pendular swaying motion.


Up front, looking over the driver's shoulder.

Lots of lush greenery bordering the Wupper River,

but the scenery changes as the line approaches a Bayer factory.


Near the western end, past Barmen, in Elberfeld, the Schwebebahn veers away from the river, traveling over city streets.


End of the line, Oberbarmen station -- a fresh train emerges from the Wagenhalle, beginning its run east.



From an August 1987 Wuppertal brochure:

"Like a dragon, hard as steel, with several stations for heads and flashing eyes, twists and turns above the river..."

At the opening of the suspension railway in 1900, the Emperor Wilhelm II was one of the party. The carriage he traveled in, nostalgically known as the "Emperor's Carriage" (Kaiserwagon), is still in use. Every Saturday, from Spring until Fall it takes off on its leisurely coffee trips. It can be booked at any time as the lofty and enjoyable climax to a day's outing by office parties or clubs.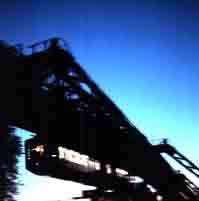 For more information: