Japan (actually, just Tokyo, again)
Three bonus photos if you select the italicized links but these are just things Japanese - look 'em up.
2016
After incredibly busy time ending NASA work, closing out Sunnyvale apartment and refinancing the house, the last day at work followed by stressful traffic up to SFO to turn in the rental Hyundai and stay in the back bldg of the S.San Francisco La Quinta. The next morning, shuttle back to SFO and the flight to Narita, eventually checking in at the Ningyo-cho Sumisho, with ramen dinner nearby.

First full day in Japan, July 22

The usual Tsukiji morning, although this time, as predicted, a policeman prevented our entry into the fish market proper. Sushi Bun breakfast because the Sushi Dai queue extended off into the distance... it's just as good, this Sushi Bun -- they even served us tea while waitng in line, outside.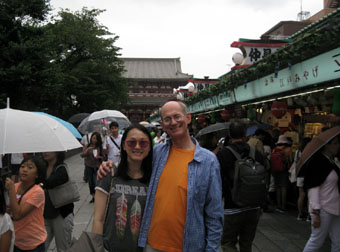 Drizzly Asakusa afternoon with friendly Tempura lunch and later, a rather bleak MOS Burger dinner (since couldn't find anything else).
Second day, Saturday, disaster: during hotel switch, because now I had two to watch, forgot my bag containing everything important on the subway, wasuremono, but miraculously had Kumiko- and Jun-san's cel phone numbers in my shirt pocket. Saturday morning but he was at work, nearby, and he met up with us after some tense waiting by the pay-phone there in Shimbashi. Kumiko-san made the calls (ringing up every station, apparently) and after a short time, bag located!
So we had noodles for lunch (mine, cold, with lemon slices) and then Kelly and I checked into the Shinagawa Prince Hotel, which has evolved considerably sice I first stayed there so long ago.
Off to Shinjuku to meet up with Ikuko-san, Ikue-san and the whole Nido family for Korean BBQ after asanoha fabric purchase at Okadaya.
Sunday, the third day we rode trains to Ichikawa to meet the Nido's who first drove us out near Narita to retrive my back-pack... how can I ever repay them?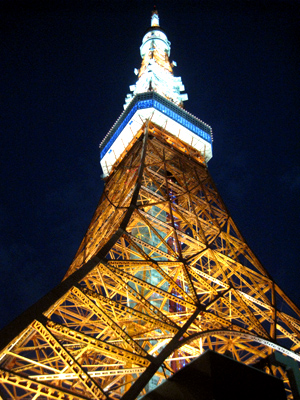 Later, after a day in that waterfront park with the biggest Ferris Wheel, back into the city for a visit to the shrine (with a torii gate-tunnel -- and mosquitoes!) and sunset ascent of nearby Tokyo Tower.

Finally, back to Tsukiji, where Kumiko-san used to work, for her recommended kaiten-zushi restaurant: Sushizanmai.
Last full day in Japan, shopping in Shibuya (Tokyu Hands, mostly) with manditory Sushi Daidokoro lunch (with the delicious ara jiru soup) and then Tempura dinner on top floor of the Ginza Matsu-ya depato with Kelly's mysterious classmate Jiewen.
Early Haneda departure the next day for Hong Kong, Shen Zhen and ultimately Zhanjiang.