November 1 Tsumago
Back to Tokyo, and on to a vintage village
In the morning I must've gotten up earlier than expected, since the members of my host family were all eating breakfast in the kitchen, while a separate place was set for me at the dining room table. This made me feel weird; when Noriko brought out my hot dish of Western breakfast (Japanese would've been fine with me) the situation reminded of the family-run B&B I stayed at near The Village in 1977, in Penrhyndeudraeth, Wales. Unlike then, when I turned on the television to the astonishment of my hosts, and just got a test pattern (like they knew would happen); here, Noriko turned on the TV and then Hiroshi bustled in to insert a videotape (to record something, the news?) Hiroshi and his daughter Yuko eventually said good-byes, and Noriko drove them off to the station to catch their crowded trains to work. This was my chance to explore their house, but I played model guest and stayed put, watching the television.

Noriko returned eventually, exclaiming about how bad the rain was making the traffic - she'd originally wanted to show me the Sugimoto-dera (oldest Kamakura temple) or perhaps the Hokoku-ji Shrine (with its bamboo forest) or maybe the Kencho-ji - I forget exactly which, but it was just too rainy; instead I said it was fine if she could just drop me at the station. After giving me some satsuma tangerines for the ride, we were off, and traffic was crawling - her plan was to go all the way to the JR station but as were driving along beneath the monorail I rode in 1992, my excitement grew and I said here would be fine, so after I gave her a temari ball she let me out at the Shonan Moshiya station - a couple stops later I was in Ofuna, where I soon boarded an express back to Tokyo.

There I requested a reservation on the newest shinkansen, the Asama line to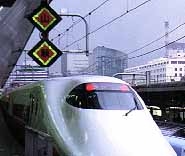 Nagano, built for the recent winter olympics. This request turned out to be quite unnecessary, but even though my railpass was limited to second class the reservation was in one of the first class cars! With super-express swiftness I shot through the rainy countryside, eating the bento lunch I'd purchased in Tokyo station. Wasn't in Nagano long, just a few minutes really, then onto another express to Matsumoto, the place to which I'd return in a couple days, to experience the castle festival celebrating the November 3rd Culture Day holiday.
In Matsumoto I caught a local to Shiojiro, where I had to buy a ticket on to Nagiso since my railpass was no longer valid; I'd crossed the line and was outside JR East territory. Now I was truly in the boondocks, the destination: one of these three little post towns along the Nakesendo Road which are preserved like things were a hundred years ago. By the time I arrived in Nagiso it was night; there I caught a bus for the final few kilometers into Tsumago. It dropped me on the outskirts, as motor vehicles are not allowed in the center of the village. All the shops were closed up and the only illumination were the occasional streetlight and the house-signs - cubes of frosted glass, illuminated from within by single incandescent lamps, and marked with squiggly old kanji. I felt a bit like a character in a samurai film, walking through this dimly lit town of wooden buildings.
In addition to other sources, this page had provided me with needed background on these environs, and author Randy recommended staying where he did, at the "venerable" Matsushiro-ya* - but this morning Noriko had called a relation who lives in this region and the word was, that inn was expensive and too shabby, I should instead stay next door - and Noriko had rung up the place next door, Shimo Saga-ya, so I was expected. Finding it on this dark night was a challenge, but somehow I was able, with aid of the posted maps and my deciphering of the kanji illuminations, to appear at the Matsushiro-ya door, and the proprietress of that ryokan took me down the adjacent little alley to Shimo Sagaya's door, which slid open and I was welcomed inside by my own hostess.
At ryokans, guests are typically served both dinner and breakfast, and they're lavish meals with lots of little dishes. My place was already set in the teeny dining room, it seems I was the only lodger that night (and they only had capacity for a few, anyway). Afterwards, another ofuru; followed by lounging around on the new-smelling tatami-mat floor of my small room, wearing this night's yukata. I was thankful there were no other guests - the drawback of Traditional Japanese (as opposed to the Western) lodgings is those paper-thin shoji walls: stylish, sure; but you can hear everything happening in the adjacent rooms. All I heard was the rain and the stream rushing past outside. My only complaint was the harsh-yet-efficient light from the new fluorescent bulbs in the old fixtures - along with all the other preservationist regulation keeping this town intact, incandescents really should be required inside also.
---
Note:

* Compare the old charcoal drawing of the place he provides (by Akira Sato) with the photo I took.
Back