November 2 Takada
Nagano; North to the Sea (almost)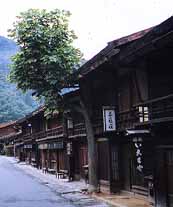 In the morning, after a great Japanese breakfast (miso soup, several pieces of pickled somethings, a couple chunks of freshly cooked sushi-style slabs of omelet-egg,* a packet of several 3 by 9cm sheets of nori seaweed, bowl of rice, a hunk of grilled salmon, and tea) I went out to explore the village. In order to make the early train (the next one wasn't for hours) I had to hurry, and a lot of the little shops weren't quite open when I left; on the other hand I figure I got out just in time because the members of an Australian group hiking the Nakesendo (which sounds like fun) were starting to emerge from their lodgings, and when I got to the station a couple big buses of native tourists were just arriving - in short, this village was about to be overrun, and its illusion of antiquity spoiled.

Rode the local back to Matsumoto, where I could've stayed on; but I wanted to get maximum value out of my railpass so after just a few minutes there I boarded the next express back to Nagano, thinking vaguely that I might catch a train to the coast - perhaps catch a glimpse of the Japan Sea. The next train north, to Naoetsu, didn't leave for a while so I walked around exploring the station's immediate environs. Some fruit merchants had some stands set up outside, saw Fuji apples for sale the size of grapefruit - why aren't these jumbo specimens exported?

Rode north through apple orchards on an empty express train heading towards the Japan Sea. Far off, misty mountains were visible, closer ridges showed the beginnings of the autumn color changes. On a whim I got off at a town named Takada, a couple stops shy of the coast; afternoon was getting on and I doubted that I'd be able to see the ocean once I reached it. A pictorial map on the wall outside the station showed a castle with a moat in the center of town, I decided to check it out but increased rain and gloom made a business hotel I walked past seem extremely inviting; I inquired as to vacancy at the Town Hotel Joetsu counter and was soon upstairs in another little room, shaking out my umbrella and changing into dry clothes. The room's television wasn't free, had one of those annoying meters which demand coins for operation, so instead I watched nothing and just read in the evening.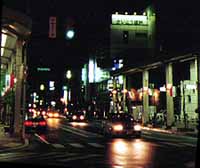 Had some fun walking around, though - this town has permanent awnings protecting pedestrian traffic along the main boulevards - I hear they get a lot of snow around here in the winter. Although only its green neon sign is visible, faintly; my hotel rises up in the middle background of this image.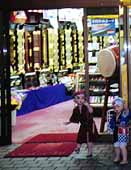 One store which seemed particularly exotic sold those little alters called butsudan which the natives keep in their living rooms, where mementos of ancestors and passed-away loved ones are stored. I don't think the little figures are for sale; rather, merely come-ons to lure potential customers inside.
---
Note:

* I'm wondering if I got a cooked egg because I wasn't a native. If an egg is served with the Japanese breakfast it's often raw - the user breaks it into the bowl and either slurps it up or pours it over the rice, hopefully it's hot so the egg cooks a little. Occassionally the egg's boiled - I always give it the spin test to check, before cracking or passing on it. (Raw fish, fine, great; but raw egg? Please. Ain't they heard of Salmonella?
Back