October 26/27 O-ame (heavy rain)
Up on the semi-exposed platform at Ueno station, thunder boomings and even a lightning flash! A little rain in Japan is nice, makes for scenic reflections of the neon in the street; but this deluge was ridiculous. The wind shredded my cheap umbrella; a new one was on my list since I heard the Japanese of necessity make great brollies - as it turned out, that's what became my first purchase. But I'm getting ahead of myself.
Getting There
My trip began in California, in the late wee hours before dawn. I closed and locked my door, shouldered my black back-pack and set off in the silence, strangely muffled by a weird, smelly fog. My first destination was the Mountain View CalTrain station, as usual I'd ride those clunky rails up to the Millbrae station and take their free shuttle over to SFO (San Francisco International). Heard a train whistle as I approached the station, hoped this wasn't mine but instead a southbound train, but I got close enough to see its headlights pulling out in the fog - due to new San Jose Light Rail trolley terminus, the CalTrain station had been moved back a bit and temporary plastic construction fences barred my usual way; I knew another train would be along soon, compressing the schedule dangerously, but the notion of breaking into a run to catch this express were suppressed - I couldn't see where I'd be stepping in the gloom and had no intention of foolishly twisting an ankle or something at the very beginning of the trip. Apprehensive, I arrived at the airport only to find my scheduled LA flight's time had been moved up, I'd missed it; but so had everybody else as it'd been cancelled. More schedule compression - I'd be arriving at LAX further inside the scheduled two hours before arrival time suggested for international departures; but since I wasn't checking luggage I wasn't seriously concerned. So everybody settled in to the 737 and - surprise! Just before gate push-away, a sudden intercom announcement, difficult for me to understand in my terrible middle seat way aft - this plane was unsafe and we'd be transferring to a spare aircraft, positioned for just such a contingency two gates down. (I was flying United Shuttle, which has almost hourly flights running between SFO-LAX.) Orderly, yet mildly hysterical exit, tedious line-up in the terminal, then reboarding. At the end of the jetway, I begged the friendliest-looking (and as it turned out, senior) flight attendant for a seat change, explaining my situation; just before we pushed away (again) she gestured at me from up front and I moved up to a seat right by the door. (Actually, I exaggerated to her, said my flight was a half-hour earlier than it was scheduled; as I disembarked I confessed to her my real departure time. She said that was okay, "People lie to me all the time!")

Rode the "A" LAX Shuttle bus around the loop, and walked upstairs at the Tom Bradley International Terminal. (Now that he's dead this name isn't so annoying - kinda neat, actually; since I'm reminded of the one time I saw him in person, standing up on the platform with Muhammad Ali at the starting line of the LA Marathon in 1993.) Breezed through check-in with Korean Air, even had time for a brief phone-chat with Shari (a local call, there) just before boarding was announced. Looking around the gate area, I couldn't believe it - this would be the usual 747-400 we'd be flying; where were all the passengers? But you see I've been conditioned by the deplorable bus-like state domestic flying's been reduced to - not only were we flying about one-third capacity, but there was actually generous knee-room ("pitch" in the flying vernacular) between my legs and the seat in front. Just before I found out about this pleasant detail, something new was encountered - security personnel in the jetway, and right at the end, a bomb-dog which sniffed each passenger and their carry-ons.
First Night
Twelve hours in the air, and it was still mid-afternoon when I got off the plane. (Flying west is weird, travelling that far - especially since the date line is crossed - suddenly, it's tomorrow!) At Japanese customs in Narita, the officer had me open my pack for inspection. (Unusual, in my experience.) He deployed a laminated plastic sheet with line drawings of six categories of contraband - drugs, plants, guns, swords, I forget the other two - he kept pointing meaningfully at the drugs section (with its cannabis leaf) - finally satisfied, he let me go. Inside the business section of the terminal, swarming with people (Welcome to Japan!) I located the exchange counter (hmmm - they moved it) and bought yen with my cash, according to my plan, even though I noticed my traveler's checks would've received a slightly better rate - wonder why? Counterfeiting? Then downstairs, where I purchased a ten-dollar (¥1000) Keisei Limited Express ticket from a no-English machine, and onto the train, feeling smug since mine were the only round-eyes visible (my countrymen all boarding the twice-as-expensive but only a little faster Keisei "Skyliner" into town, or the even more expensive Japan Railways (JR) NT'X line). As the train slid towards Tokyo, the skies darkened and it began to rain.

At Ueno seventy-five minutes later, upstairs and outside, and down the street to the huge, adjacent JR station. Bought a ticket from another machine and passed through the automated turnstile, upstairs again. First ride on the Yamanote, south a couple stops to Kanda, where I caught a subway to the vicinity of the Tokyo Green Hotel. By the time I located it and approached Reception, I was soaked; and of course, exhausted, although the second wind was kicking in. Change of clothes up in the room, and back outside, walking over to the edge of near-by Akihabara, where a rack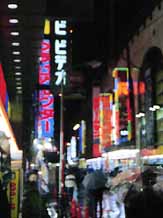 of umbrellas sitting just outside a brightly-lit store beckoned. Although both brollies were made in China, this new one was sturdy - obviously built to Japanese standards, and unlike that flimsy thing I got at home, had an ingeniously clever mechanism. The rainstorm, which seemed like it might've been tapering off, resumed its fury. I stood under an alley overhang waiting for another break so I could locate a restaurant. Alas, no obvious prospects nor energy for this - I went back to the hotel, pausing at the 7-11 across the street to stock up on something/anything to make a meal, which I ate in my room while watching weather-related news on the TV - some areas were enduring flash floods. Instead of the usual wieners and half-smokes rotating up by the 7-11's counter, a steaming, compartmentalized vat of various foods was bubbling, including octopus tentacles - this was something I'd see in all the Japanese kombini (and I imagine it was a seasonal, cold-weather offering) - it was oden, but I never tried ordering any there, since that seemed too challenging (although oden is tasty).
---