October 28 Takadanobaba
Tsukiji Fish Market, around Tokyo station, Ginza
Up in the morning, jet-lagged so really early, first destination the traditional Tsukiji Tour. Tasty sushi for breakfast at a place called Ryu, just across the way from the Fish Market, and down the street from the nearby Namiyoke Inari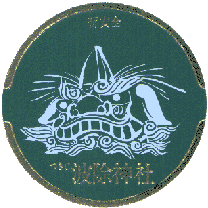 shrine, where I got that sticker I wanted. (Not a good reproduction because the scanner doesn't handle metal flake very well.) Back to the Green Hotel for checkout; then, over to the TIC. A visit to the Tourist Information Center in Yurakucho is another traditional first-day activity - gotta know what's happening. (It's moved a block north from its old storefront location to the lower level of the new, glassy Tokyo International Forum, which is like a convention center.) Then some bookstore browsing in nearby Kanda - was thinking about lunch at this little eel place, until I realized what was sloshing around in the unattended bucket out front - must've been a recent delivery, I realize the freshness should've been a plus, but that seemed a little too fresh, made me somewhat queasy. Eventually checked in at the Toko Hotel, right next to Gotanda station on the Yamanote - this would be my trip's most expensive lodgings, about $95 a night. They gave me a high-up room, on the 13th floor - that's the one superstitious Americans skip, right?

In such plush accommodations one might expect a little more than the basic business hotel furnishings, and behold: the toilet had one of those control panels wimpy correspondents on expense accounts get into such a state about. (I've read several of these: pressing button expecting a flush, shrieks of dismay, leaping off the seat as a jet of water arcs through the air, embarrassment of wet clothes, etc.) I had no difficulties mastering the mechanism, and must report that it's a supreme pleasure, this post-movement ability to direct a powerful, warm, pencil-thin stream of water directly into your anus. As they say, "Leave it to Tojo!" (Actually, Toto - that firm's name was prominent on a lot of the bathroom fixtures.)

After watching some television, a bit of some samurai drama, and then transfixed, an episode of the new Gundam series; rode the Yamanote line up to Takadanobaba. Heard there were things of interest around this station, but my information must've been out-of-date, couldn't find them. Had a sashimi dinner, which contained my first serving of a whole raw shrimp - how to do this!? I recall from a chopstick book that the ultimate hashi challenge is to peel a shrimp; but where to begin? Eventually I just picked the thing up, dexterously grasping both head and tail between thumb and fingers - then I could dunk the meaty middle into the soy and bite it off. In later experimentation with whole shrimp I learned the head could be pulled off even more easily than the tail.

Nearby, a video arcade caught my interest, for the machine right at the front. I watched its idle displays cycle for a bit, and then a seasoned player sat down.
Back home the "driving" machine is a mainstay of the arcade; here in Japan, where there's so many trains,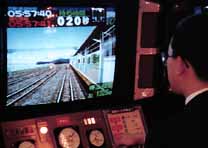 you can drive a simulation (just as R.Crumb suggested would be possible, in The City of the Future). Although operational details were obscure (since I couldn't read most of the on-screen messages) it was apparent that points were awarded for accuracy of platform stopping position. On my way back to the station I popped into a Mr. Donut, where among other things I had one labeled tofu - a torus chewier and more slender than the usual. I was hoping to find the product called "My Father's Fist" which T.R. Reid said this multinational makes available in their Malaysian branches, but apparently not in Japan.
---