November 5 Shibuya
Along Meiji dori
After checking out from the hotel and walking down to Shibuya station, a mild problem during coin locker storage - not enough small change in-pocket, and no coin

changers in sight, nor easy opportunities for spending money. To my rescue came Tomako and Yoshiko, two proselytizers - they actually wanted to talk about Ten-Gyo-Riki energy and their philosophy (which seems to blend Christianity and Buddhism), maybe even get me to visit their nearby Cosmic Energy Hall (to register my name with the Universal Will) but I just wanted their coins and was able to shake them after receiving a complimentary tract titled "Laws of Nature" for which they requested a small donation, for its translation.

Luggage secured, I stepped out into the Shibuya sunshine, and found an interesting free service available in front of a glasses store. Know those little ultrasonic baths some jewelers set up outside their shops? I've often wanted to experiment with them, but previously always found them guarded by an attendant. Turns out this chain of shops places self-serve units out front for public use - you dip in your glasses and listen to a little electronic tune as your specs are cleaned (but since my glasses are fairly new, I couldn't actually perceived any difference - could've just been water given a slight vibration.)

Strolled down the broad avenue called Meiji Dori - dori is a boulevard, and unlike most Tokyo streets this one's big enough to get a name, and it's a vital artery through this part of town, running alongside the Yamanote up to Shinjuku. Parts of the tree-lined avenue were decorated with strings of little red aki-chochin lanterns; you can see them in my photo.* Research indicated that this was an area with so many stores selling recent antiques that it's known as "Retro Tokyo" - couldn't locate the place called Okidoki but did have fun at the Pink Dragon. Hung out at the faux-Italian Pronto restaurant for a while,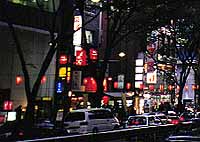 enjoying a sweet roll; later, for lunch I had something Japanese at the Brasserie Lion. Although that restaurant had Continental affectations they served mid-day Japanese specials - I think I had the eel. In the men's room, an unusual appliance - forced air for your drying hands, but at a much higher pressure than normal, and rather than just blowing out you'd lower your hands into a wide slot - this triggered a switch activating the parallel jets of warm air.
Noticed a place whose name was an example of the wacky, amusing Jenglish (or Engrish): SLOB Oxidized Sophistication, which seemed to be both a Navajo/turquoise shop, and a bar. (Another example I saw was a poster in the subway, on a deep blue field with stars, BIG HAWAI'I BIG RELAX .) Along a backstreet I stumbled across the UK-expatriate British School in Tokyo - classes were letting out and the unexpectedly accented voices I heard causing my lingering, hanging around out front and asking directions of a fetching blonde lass with charming overbite smile and fidgeting young navy-blue school blazer-wearing son. Eventually I noticed I'd walked all the way to Harajuku, where I turned around at the big store full of more near-antique Americana bric-a-brac called Propeller. Then, back to Shibuya for my luggage and on to Ikebukuro where I checked in at the New Star Hotel, a small place a couple blocks from the huge station - finding it took a while, but since I'd made the reservation in advance, I had the requisite little map they'd faxed. The price here was just about average compared with the others where I stayed in Tokyo - clean, low-profile places for a little less than ¥8000 a night, very small Western-style room with private bath.

Great pizza for dinner at a chain I'd been seeing around - not sure of the name, but Italian's prominent. Pleasant Mediterranean ambiance inside, although acoustically incorrect, as the usual enthusiastic Japanese shouting which characterizes many dining-out experiences was even more so there, perhaps to simulate perceived Latin gregariousness. The menu was baffling, mostly horizontal strings of the phonetic katakana characters the Japanese use for foreign words; but I'd jotted down the kanji labeling the pizza in the display case outside the entrance - as is common in Japan, they had the plastic models of various dishes served.
---
Note:

* REMINDER: as with all photos in this story, Thumbnail Alert!!
(click for bigger picture, then use Back button to return)
Back