November 7 Harajuku
Dull flea market and the Meiji Shrine
Sunday morning, so I ventured over to the Togo shrine, near Harajuku. I'd enjoyed my previous visit to a Japanese flea market, in 1992 when I rode the Seibu subway line way out to Arai Yakushi. This one didn't impress me - just a bunch of picked over Asian junk, much more crowded, the air full of too many foreign voices (English, American and British; and French). The few things which appealed were priced at double or triple what I thought reasonable; the one thing of interest was a big box of small, identical temari balls, which I scoffed at (due to their corner-cutting construction) but I should've snagged one anyway since they were only ¥100.

Instead I walked off the shrine grounds and back into urbane Harajuku where I had a breakfast pastry at one of the many French places, a meal I eventually augmented at the classy-looking (but ho-hum tasting) mechanical sushi place pictured on the ten general observations page.

Then another Ukiyo-e museum, the Ota Kinen Bijutsukan, to see their display of wood block prints. An irritating, rude foreigner was in whispery, giggly discussion with his native date; they had to examine everything and the visit was made even more uncomfortable/memorable by the slippers. The Ota Kinen was one of the very few public places I visited which mandated the shoes-off Japanese indoor tradition: at the entrance one placed their footwear in little lockers, and donned a pair of one-size-fits-all (natives) slippers - those available were unusually small with thick soles whose edges really dug in - ouch! Suffer For Art! The reason they were required was, to inspect one wall of pictures closely one had to step onto a low shelf of tatami matting. The furnishings everywhere else were thoroughly Western, however; so I thought the shoe deal was uncalled for (and the prints displayed at this time, a small subset of the holdings, weren't really noteworthy).

On the other hand, the Meiji Shrine was fun - it's in the center of a patch of parkland much liked by that emperor, and I'd been before but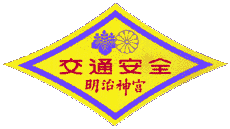 returned since I was on the lookout for another "traffic safety" sticker, and they had a good one. An added attraction was the little girls dressed in kimono - I couldn't help but notice these little family groups when I visited big shrines; their numbers were increasing as the calendar approached "Shichi Go San" day, November 15. Not exactly a holiday (it means Seven Five Three) but it marks a time when girls of age 3 and 7 and boys of age 3 and 5 are celebrated. So their parents dress 'em up in traditional garb and take 'em to the local shrine to pay their ancestors respect. I tried to get some photos but all my attempts were thwarted, and the looks their parents shot my way were off-putting so I tucked away my camera.
Outside, near the station, I finally observed the take noko zoku or "bamboo shoot tribe," but it was dusk and too dark for pictures. These are groups of young people who dress up alike and dance there, at Yoyogi Park on Sundays. My first trip, this was something I wanted to see, but it was a festival day or something and I thought the "bamboo shoot" business had become archaic - that day the park was overrun and there was a rock band (powered by a portable generator) every few meters, all playing at once. Their sounds combined to form a roar like jet engines - but here today I saw a bit of what usually happens, kids huddled around boom boxes dressed in flamboyant, home-made costumes. Maybe they'd been dancing earlier, but the day was winding down - the theme of the group I observed closest was some kind of Goth thing.
On to Ningyo-cho to check in at my last hotel, the Sumisho. It was pleasant enough but when I went back out the neighborhood was strange, oddly deserted - big apartment buildings devoid of signs of life, even lighted windows. Guess they just roll up the streets early on Sunday nights there; the next evening everything was open and all seemed normal and lively again. One of the few open establishments was a pachinko parlor with exceptionally harsh and annoying signage - traveling marquee lights but with strobing xenon bulbs rather than the usual incandescents.
---