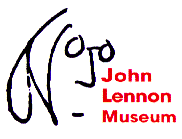 A trip out to Saitama Super Arena is a visit to the New Japan: clean, antiseptic shades of gray, "steel and glass." The weather synchronized the day I went, chilly white sky with that pre-snow feeling. To get there from Tokyo buy a ¥380 ticket at a machine and ride the JR Keihin-Tohoku line north out to one stop before Omiya. (The latter is identified by simple, easy kanji, unlike the former.) This is the line which parallels the Yamanote along its eastern side, or you can pick it up in Akabane by taking the Saikyo line north out of western Yamanote stations like Ikebukuro (as I did).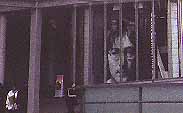 I suppose when there's an event at the arena mobs of people could make finding the museum difficult, but otherwise you just follow the crowd and you'll see the big two-story head-shot of John (click to zoom). ¥1500 to get in, and you're made to wait until a group forms, then led into a small cinema for the introductory film, which begins with Yoko's greeting (this is, after all, her show). Then, three zones downstairs, four or five up (windows only on the upper level):
The early years, wartime, featured artifact: a comic book he drew (I was reminded of R. Crumb's childhood output).
Discovery of rock&roll, Quarrymen history, and a banjo. (Several guitars are displayed throughout, I suppose they were his, but this wasn't made clear by the limited English captions.)
Beatle room. Artifacts included his Sgt Pepper suit and the passport he'd used touring, opened to the 1961 photo. This zone ended with stuff from the "How I Won the War" movie.
Meeting Yoko Ono, all about Yoko, reproductions of her art work.
John & Yoko: Bag In, Bed In, Give Peace a Chance.
Early 70s in New York City: concert videos, the "Lost Weekend."
Domestic life, summers in Karuizawa, and then "Double Fantasy." Artifacts included a black 'dragon' guitar and unlike all the others, out in the open, the white Steinway piano.
Finally, a couple of spaces for contemplation. One has glass panels inscribed with his quotes and lyrics, English on one side, Japanese on the other, with clear plastic chairs where one can sit and ponder. The other has counters with paper forms the visitor's invited to fill out (Name, Age, Sex, Thoughts) facing nine portraits of John through the ages, each with a little bin: place your contribution at the photo you like best.
Then it's back downstairs to -- the Gift Shop! Breezing past it on my way in I was excited, saw piles of headgear among the inevitable T-shirts. It's time to replace my "Paul's Grandfather" flat cap, the one I got in Slovenia's getting worn, and a "Hard Day's Night" John cap could be viable. Alas, only floppy Gilligan-style fisherman hats and baseball caps are available, like the shirts all embroidered with the museum logo (in English only*). I considered buying a souvenir postcard or two but since their price was double the going picture-postcard rate I passed. You can also stock up on those ¥3000 CDs if you like, all John's records and the Beatles' latest are there; as are many books, old & new; plus replicas of his spectacles.

The visit wasn't particularly transcendent or joyful, in fact it bummed me out -- brought back to mind the tragedy of his murder. But a saving grace was, as I was leaving I discovered my hat had gone missing -- an inquiry at the information desk resulted in its return (I'd dropped it in the theater). Had to fill in my name & address on a form to get it back, however.
---
* Why do the Japanese fail to understand the desirable hipness of kanji? It's the same with English, they plaster words all over because they're exotic, shouldn't be difficult to extrapolate that the foreign visitor wants the same thing. Very difficult to locate souvenirs like that, however -- my T-shirt with the characters that say "Kyoto" is a rare find. One that says the same think in romanji, however -- no problem.