The back yard came with two big swaths of grass. No garden! See how sad the space is? It's colorless! Must have garden! So we rented a sod cutter.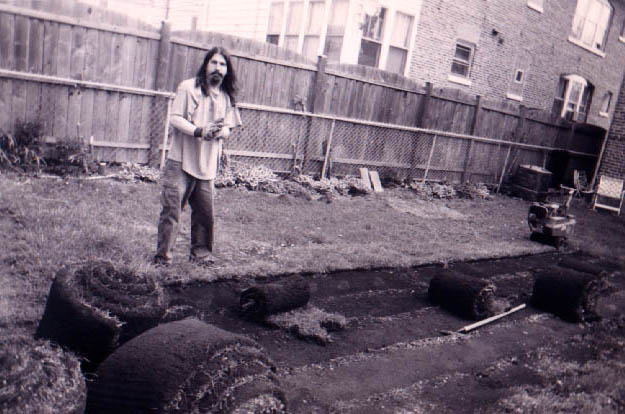 Sod cutting is nifty cuz you can roll up your lawn afterward. But the stuff is quite weighty, so after getting carried away and making those huge rolls in front, I calmed down and made smaller ones. Some of it we rolled out on the parts of the property where the lawn was lousy or there was no grass at all. The rest we composted.
After digging up the whole area by shovel (hitting two electrical lines—only one live!) and improving the soil with peat moss, compost and top soil, it was planting time. I raise all my vegetables from seed, by the way. In the shot below, tomatoes are on the left, in the area with the plastic mulch on the ground. In the front next to the path are cucumbers. You can see the soaker hoses there, too.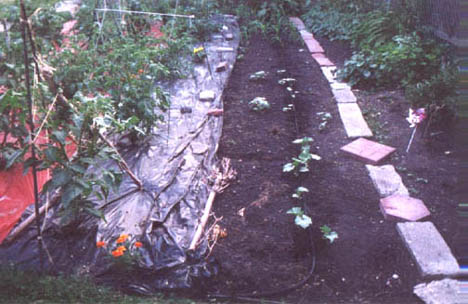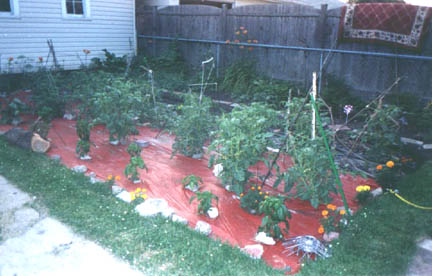 And then!
Please note the smallest tomato in the world in the bottom right section of the shot–on top of the yellow tomato.