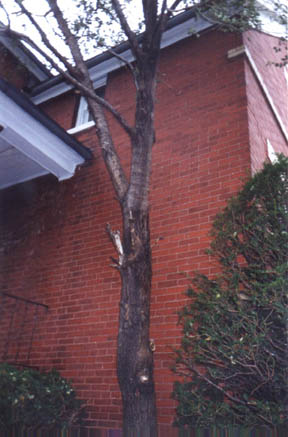 This tree was growing up right next to the house. Even I, a person who could easily be called a tree-hugger, knew when I first saw it that it would have to go ASAP. So we wasted no time in making it plain to our new neighbors how nuts we are. Only days after the closing, and weeks before taking possession of the property, the handyman and I showed up with a 26-foot ladder and a chainsaw on a stick.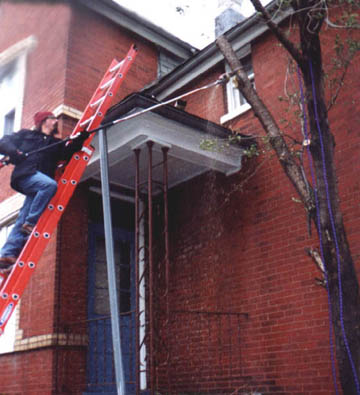 And then there were the treemains. When you chop down a tree yourself, you get to clean up after yourself, which takes lots more chopping and stacking and tying.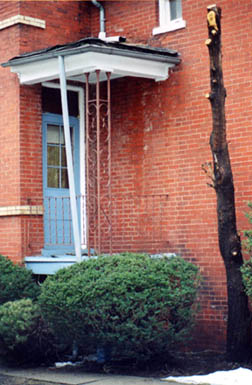 The limbless trunk stayed up until spring—baby animal time. That's when the squirrel turf war started. We found a hole gnawed in the wood of the back porch roof and heard scuttling about in the ceiling inside.

I remembered a squirrel we'd seen hanging around when we started cutting down the tree. So we blocked off the hole, and sure enough, the squirrel came back and tried to get inside. I went out and chased it off. Many times. It retreated to, yep, the remaining stalk of tree out front. Just in case the neighbors had written off our previous shows of insanity, I verified their fears with my treeside debate with the squirrel over the merits and demerits of my actions and their effect on her nesting needs.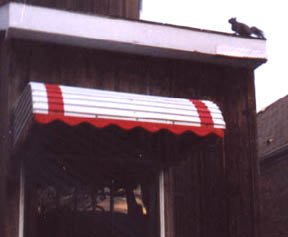 Trying to figure out how to get back in.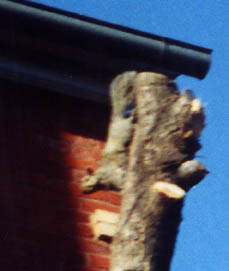 Here are some shots I took while we were having our discussion. I understand her argument, but, well, the tree was messing up my house. She got some more revenge on me all summer as she and her cohorts and children repeatedly raided my tomato garden and tore down every sunflower I grew (about 30).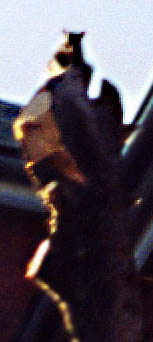 A couple months later, we rented a real chainsaw and took down the rest of the tree.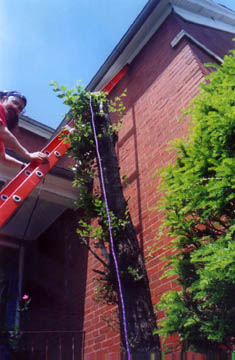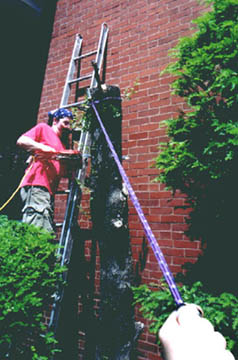 Those humongous, unkempt shrubs got yanked later, too, as part of the massive brickwork. They were hiding all sorts of disturbing things. But that's another story.