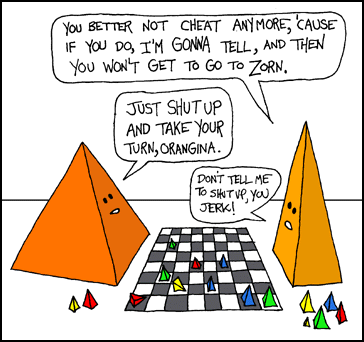 This week I have a longer than usual column here, though not much else of note otherwise. Kristin and I just got back from a trip to Miami, where we attended the GAMA (Game Manufacturer's Association) Trade Show. There, we got our first look at the Second Edition of Fluxx, and we gave a first glimpse of our forthcoming release, Aquarius. We also played lots of games with big wigs (and medium sized wigs) from every part of the adventure and board gaming industries.
The Second Edition Fluxx decks arrived from the printers just in time for the show (though the boxes didn't), and they're great! The color bars, a subtle improvement on the First Edition, make a big difference in the playing of the game, and the card quality itself is much nicer, too. The actual release is still a couple of weeks away... tune in to this station for a major overhaul of the official Fluxx site when the new edition arrives.
Iron Crown was giving out free decks to the retailers getting the scoop on the season's new products, and whenever the show was open, I was usually in the Iron Crown booth, providing demos of Fluxx to anyone who cared to play. The game got very enthusiastic responses from many retailers and from its exclusive distributor, Chessix, a deal that was announced at the event by Iron Crown. So, from a Fluxx standpoint, it was a great event.
But the thing that was really cool was being able to respond to compliments about how great Fluxx is by pulling out a postcard and saying "Wait till you see what we're bringing out next!" Because the whole time I was demoing Fluxx, Kristin was cruising through the show in her hippie finest, visiting each booth to let people know about Aquarius, and in the process signed up almost a dozen distributors, who are now all eager to carry it when it ships.
After hours, we schmoozed with fellow game designers. James Ernest of Cheapass Games kept turning up whenever we were sitting down to play a game, which frequently left us playing his outstanding new game Falling. It's my pick of the show (next to my own games, of course) and rivals icehouse for cool real-time gaming thrills. Buy a copy today.
Attending with us was John Cooper, and he spent some time chatting with the folks from Atlas Games. Sadly, we learned that their On the Edge expansion called Arcana is still in print, and that they intend to enforce their trademark. Since we're hoping to release John's brilliant icehouse game called Arcana as a Looney Labs product in '99, we're now faced with a name change. Ideas, anyone?
On the day after the show, I went on a photo safari into the heart of south Florida, and shot extensive footage of the elusive Lori Denn in her natural habitat. And lemme tell you, I got some beautiful pictures. I've barely had time to look at them, but here's a little sneak peek. Expect many new additions to Gina and Her Sister, and possibly a format change, in coming weeks.
Anyway, between all that and some remodeling work we've been having done in our kitchen, not to mention our new little cat, it's been quite a week. As usual, I have for you a new Empty City chapter and a new Secret World story. Sorry there's nothing more, but my services as a programmer have been engaged again and I have to go have a job now, at least for awhile, which means I can't stay up all night working on web pages. In fact, it's already past my bedtime.
Goodnight,

PS - I just saw on CNN that someone's building a new Titanic, to reinstate her original mission as a magnificent luxury ocean liner, to arrive at last in New York, exactly 90 years late, at a cost of $400-500 million dollars - about twice what it cost to cinematically sink her in the most expensive movie ever made. I'm not interested in being on that first sailing... but you can believe I'll be in New York City that day in 2002 when she finally arrives.
PPS - This week Number 12 added another round of photos.