---

Iceland: I draw the weekly cartoon Iceland, along with all the other cartoons of Tirade and his geometric comrades, as well as the colorful icons and other graphics used all around the wunderland.com website. I draw them by hand, with pencil, then ink, after which I scan them into a Macintosh and add color digitally.
Sketchbook Harvest: This e-book features an assortment of pen and ink sketches culled from all my years of filling up sketchbooks. I'm currently adding a new one each week, though there is definitely a bottom to this barrel.
Fluxx: I drew all the Keeper illustrations used in the card game Fluxx. I also created the Looney Labs logo, and drew that picture of the Googie-style online gift shop.
Aquarius: I did all of the color artwork for this my second card game, and consider it my best work to date.
Chrononauts: I did the art & design work on the original Beta edition of the game, including black & white versions of most of the artifacts. The final art for the game was done primarily by Alison, who color coordinated all the card, designed the logo, and beautifully re-worked my artifact sketches into full color illustrations. On the assumption you own a copy of the real product but never got to see the Beta edition, I'm putting a few of my original cartoons below, to give you a sense of what she had to work with.




The Cake that Baked Itself: This is a short story I wrote in 1988, illustrated with cartoons I drew of animated cake ingredients, which I published in photocopied format on the occasion of my niece Sarah's sixth birthday. Reprints are still available through our online gift shop.
T-shirts: I've designed numerous T-shirts over the years, including the 1999 Calendar T-shirt, the Human Game Board T-shirt, and the Fluxx Zone T-shirt. (Art from other shirts I've designed over the years often shows up in Sketchbook Harvest.)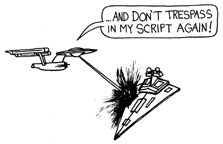 2001 BC (A Spam Oddesy): My first cartoons were published when I was in high school. For nearly six years, I drew a little comic strip for the "Byte of Data", the monthly newsletter sent out by Explorer Post 1275. This cartoon featured the Starship Enterprise as the main character, since drawing people is and has always been my greatest weakness as an artist. I mostly just cringe when I look at those old strips now... but some are actually both funny and well drawn, so I'm adding the best 8 (out of 78) to Sketchbook Harvest.
(this page was last updated on 4/19/1)