by Andrew Looney, December, 2011
On December 3rd, we helped the excellent new store Labyrinth Games & Puzzles celebrate their first year in business. Here's a couple of scenes from that afternoon:

If you're wondering about that round-board pyramid game we're playing on the right, it's called Petri Dish. It's one of the many new games I have in development which I was allowing customers to try out during the event.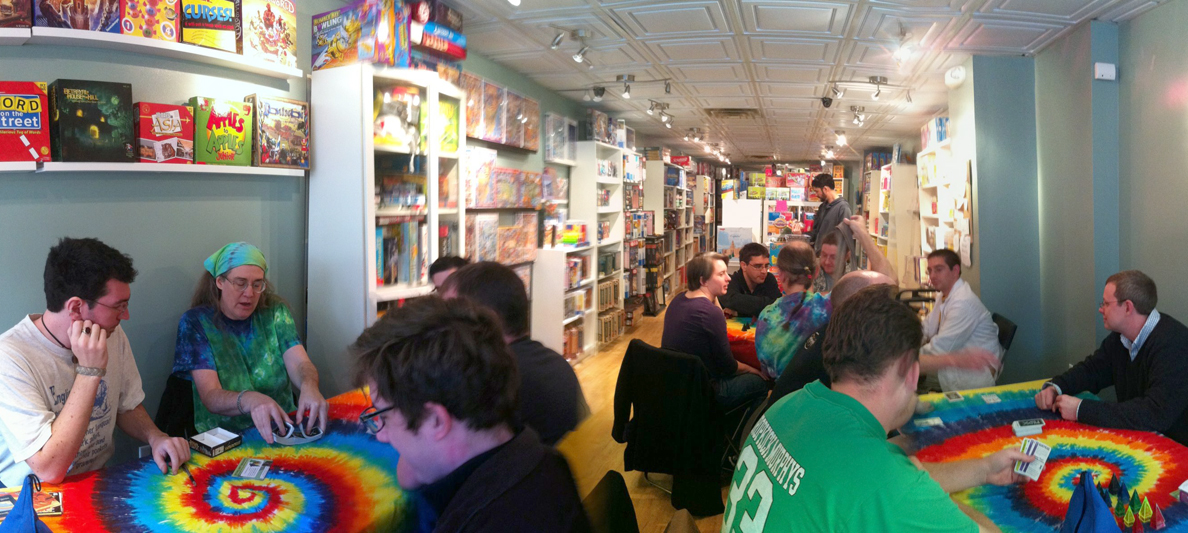 As I recently blogged, I really like the new version of Risk called Risk: Legacy. Below is a scene from a recent game with Jake, Josh, and Dave. (I won.)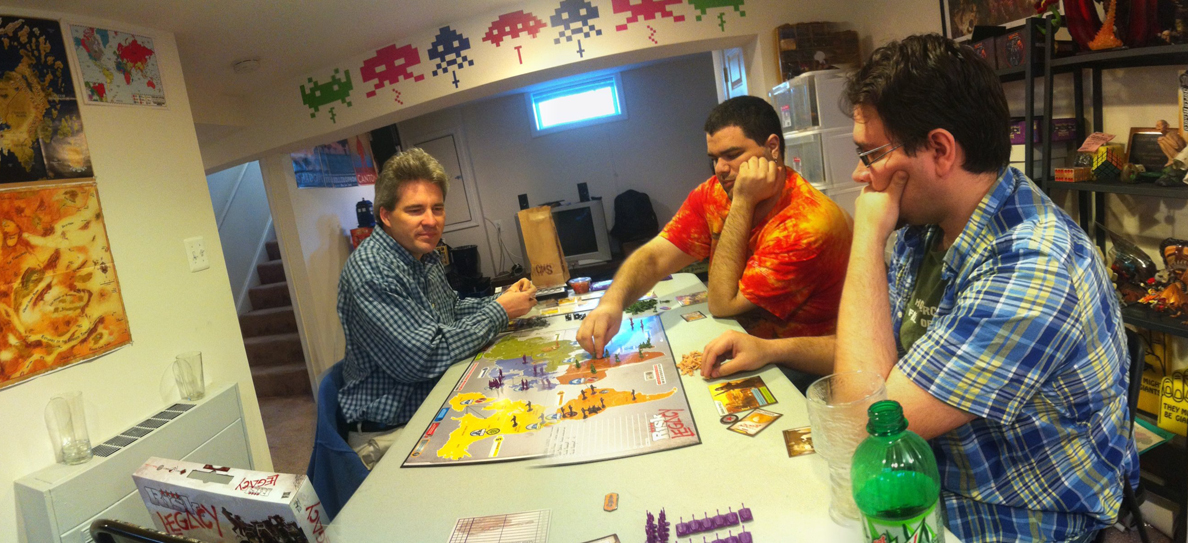 We went to visit the Foam Brain Games booth at a recent Anime convention, to check out how they demo and sell our games at such events. That's Jenn at the back table talking details with Andrew, who runs Foam Brain Games. Anway, we decided to accept their invitation to be featured in their booth at some of the big events they'll be exhibiting at next year, including PAX East and Otakon. We're even going to make a special promo card for them to use as an exclusive: a Keeper called Foam Brain!

Pano Gallery #10 included a pano of Alison's Pepperland mural just after she'd finished building the wood elements. Here it is again after a coat of white primer: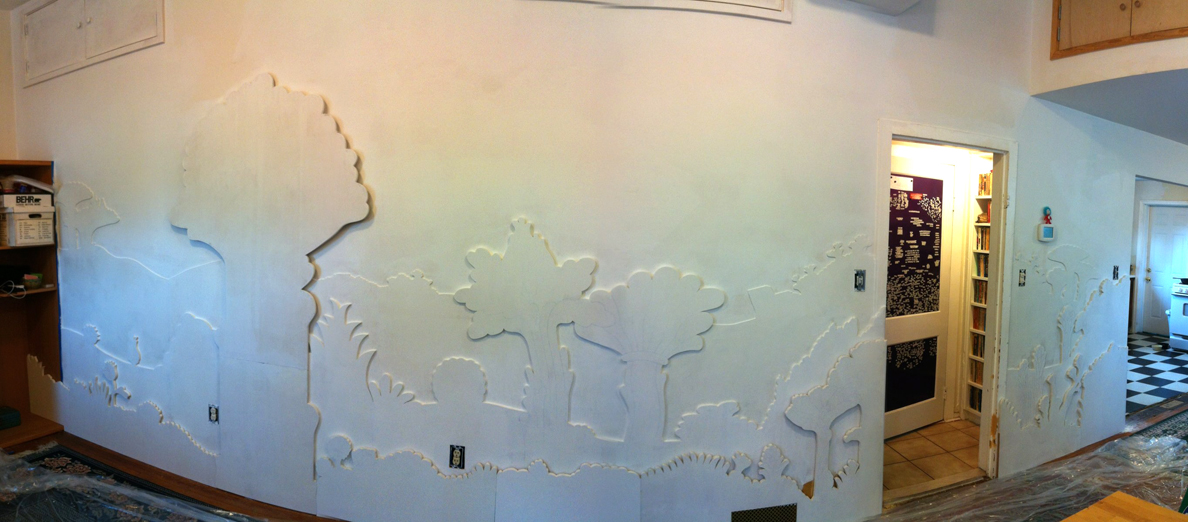 And here's that space again, this time filled up with 15 friends feasting, during Second Thanksgiving:
Here's a scene from our office during one of our official playtesting sessions. The game we're testing is Lunar Invaders.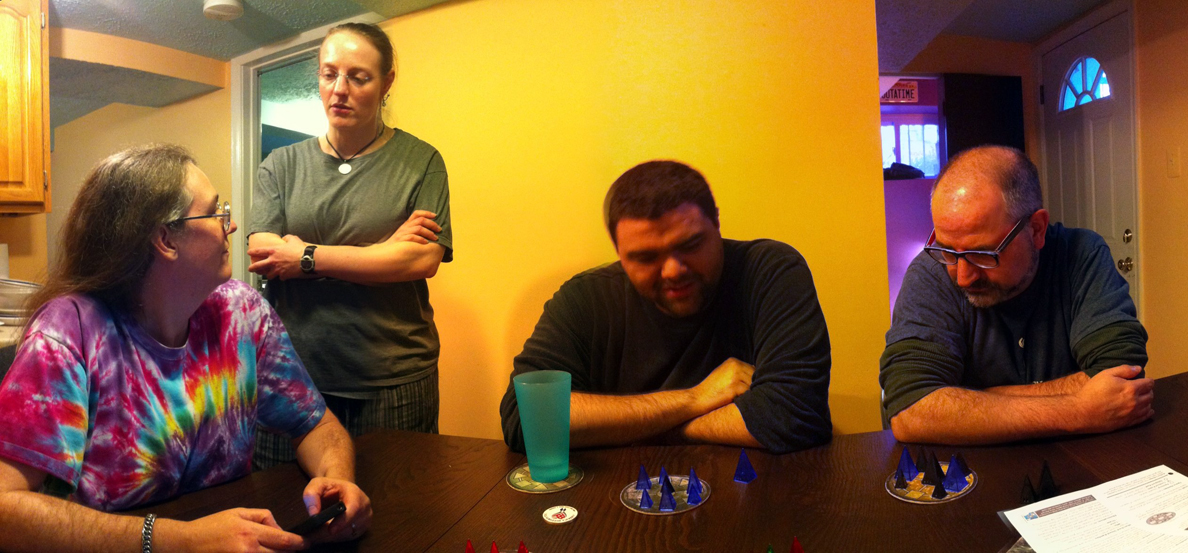 Our friend Rink has been extra-busy lately, clearing everything out of her father's house in New York. He recently moved down here for good, and she's working towards being able to put the old house up for sale. But he had a LOT of stuff, so it's taken her several exhausting trips, a couple of which Kristin went along to help with on. Here's a picture Kristin took of Rink in various locations of the house she grew up in, now nearly empty...

Speaking of Kristin and fathers, her own dad Marvin has, unfortunately, been having a very difficult year. But at least he was able to attend the City Choir of Washington's "Music for Christmas 2011" concert at the National Presbyterian Church downtown. (Kristin's parents were actively involved in the founding of the City Choir of Washington.)

Alison entered a gingerbread house building contest, and spent all week preparing for it. Here she is, in the midst of the final assembly:

And here you see the finished result, flanked by the other 2 entries. (It was a small contest.) Alison won!

Alison was careful to make sure that everything in her gingerbread house was not only actually edible, but also delicious. We've already eaten most of it!
Anyway, here's wishing you a great Christmas and a Happy New Year!