The Icehouse Handbook Online

You can play lots of games with an Icehouse set.

This is the original.
---
ICEHOUSE SAMPLE GAME
Part 8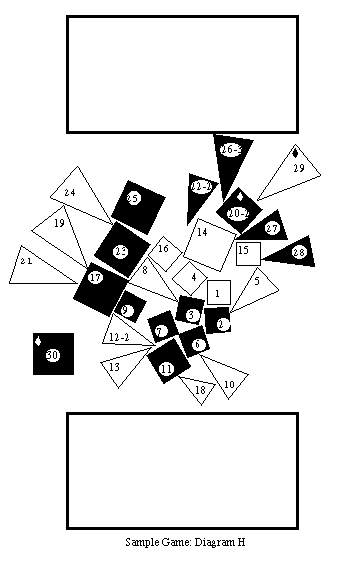 [20-2] Since piece 14 is over-iced, Maria can capture any of the following pieces: 20, 26-3, or 27. She chooses piece 20. She picks it up, and then sets it back down, this time in the defending position. She places piece 20-2 in the line of attack of piece 26-3. This leaves piece 26-3 pointing at a piece of its own color (piece 20-2) and therefore squandered. It also leaves piece 27 squandered (2 points attacking 3 points) and gives freedom back to previously iced piece 14.
[29] The only thing attacking piece 20-2 is piece 26-3. Since they are the same color, piece 26-3 is squandered and piece 20-2 is un-iced. Maria solves this problem by attacking piece 20-2 with her last piece.
[30] Torrence looks around the setup, searching for something useful to do with his last piece. Unfortunately, there are no un-iced enemy pieces available for him to prey on. After checking it all twice, he sets his last piece out in the open, defensively.
The final score for this game was twenty three points for Maria (white) and fifteen points for Torrence (black).
---
Copyright © 1991 by Andrew Looney and John Cooper