by Andrew Looney, September 2010
I love my iPhone. The latest reason it's been bringing me joy is with an ap called Pano that makes it super easy to take really cool panoramic photos.
Of course, panoramic photos are not new. Photographers have been making composite images from multiple shots for almost as long as they've been taking photos. But the Pano software takes the idea to a whole new level. The interface makes it really easy to line up the shots, giving you instant feedback for precision by showing you the edge of the previous shot you just took, so that you can line the camera up as best you can for the next in the series. Then it does all the number-crunching and magical computer processing and creates one almost seamless image from the 3 or 5 or 7 that you took.
So, here's a little collection of Pano photos I've taken recently...

Above is a typical scene from my weekly poker night. TV Tom's making change out of the pot as usual. This is a classic example of how the results will often be obviously flawed but still awesome and even entertaining for its way of twisting reality.
Below is an image I took at Strategicon, a gaming convention in California we just got back from. This image does a great job of capturing things that are going on all around me, in a way that a regular photo could not. (I'm playing in several games at once here.)

Here are several more photos from Strategicon, where we were delighted to have been Gaming Guests of Honor. I love this view of Andy vs. Everybody, taken by Kristin:

Above is Kristin at one of the many demo games we ran for our big new fall release, and below you see me teaching the new game we brought out last year.

After the convention, Kristin and I spent a few days just having fun in California, including celelbrating our 20th wedding anniversary at Disneyland (where we got engaged 21 years before to the day). Here are a couple of photos I took of the murals in Tomrrowland:

The mural above depicts Star Tours, and was there during my last visit (which was many years ago). On the opposite side of the plaza was the new mural shown below, which does a wonderful job of rounding out the area. I also really like the combination of Buzz Lightyear imagery with the vision of Space Mountain as mothership.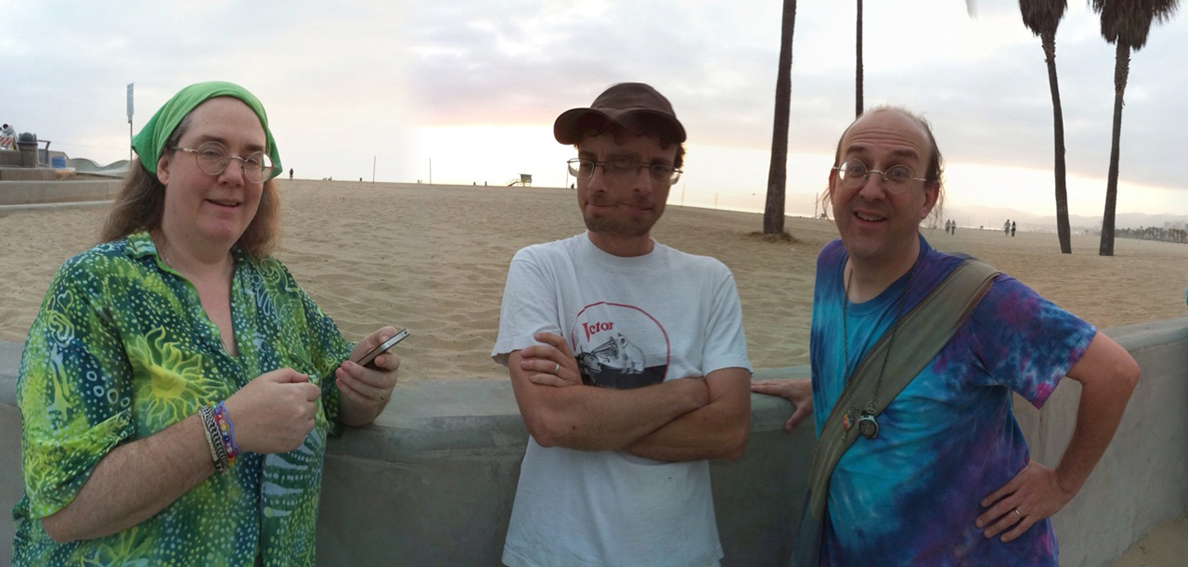 Here we see us with our old friend Dave Bondi, enjoying the sunset at Venice Beach. Obviously, Dave moved his head from one photo to the next, but we all loved the two-faced image that resulted. What's not so obvious is that this was a self-portrait of sorts... Kristin and I took this photo together, starting with me taking a photo of Kristin, then handing off the iPhone for Kristin to finish up the section with me in it. So it makes sense that Dave would have had a distracting time of it...

Here's a fun shot of Kristin, Alison, Shel, and Josh, as we wait for food at our local IHOP. (Yes, that's another of my secret new Icehouse games I'm playtesting simultaneously with Alison and Josh...)

Above is a groovy shot Kristin took during setup for Alison & Josh's tie dye party -- the fish-eye effect makes our barn-shaped house look round! Below is another one she took, after the tie dye party was underway.


Here's an image that captures Little Cat doing something we called "making the rounds." A brain tumor (or similar problem) caused this strange behavior in which she'd wander all around the perimeter of her zone in a zombie-like daze, often getting stuck in corners or behind trivial barriers. RIP Little Cat...

Lastly, here's a view of a giant chess set they had set up outside the theater where we saw a production of the musical "Chess" (which was excellent).