by Andrew Looney, March, 2012
Gallery #13 was about what happened on JoCo Cruise Crazy #2. This page is about the places we visited during the cruise. The Westerdam made 3 stops: First, at a private island in the Bahamas called Half Moon Cay, then at Aruba, and lastly, Curaçao.

Half Moon Cay is a beautiful little island with a perfect strip of beach. This was the site of one of two official Sea Monkey group photos; I took this pano of the Monkeys gathering just before taking my place with the others. That's our ship in the background!

On Half Moon Cay, we got in on a special deal that gave us access to a private cabana area, including an incredible spread of food, a Jacuzzi, and a hammock that John instantly claimed as his for the duration.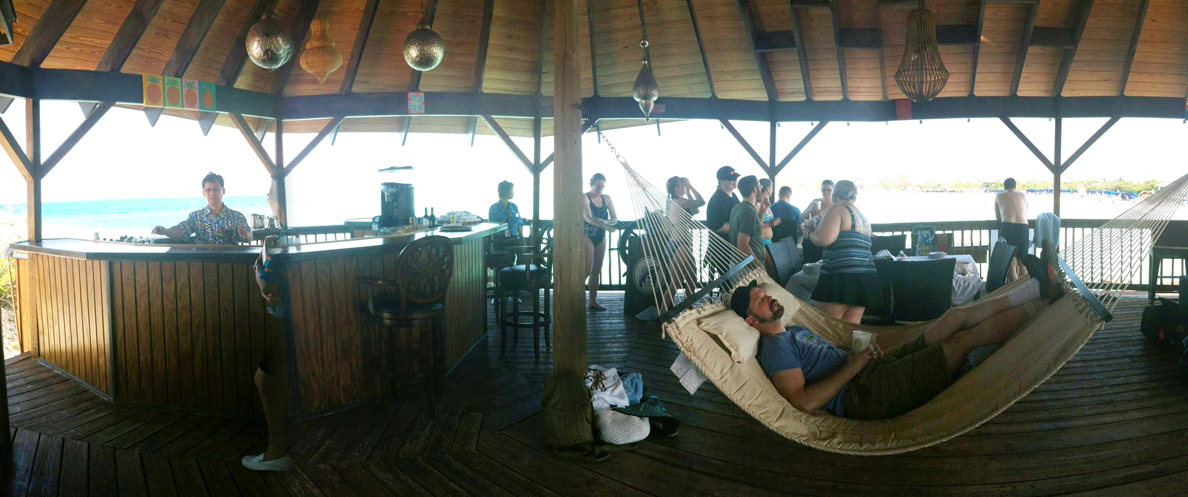 Here's the view from the cabana area:

And here's Kristin showing off her new swimsuit:
Our second port-of-call was Aruba. We strolled around the touristy areas where we docked, and eventually found our way onto a bus that took us out to one of their beaches.

Alison and I strolled along the beach awhile, but since we're not exactly what you'd call sunbathers, we found it more relaxing to hang out on the pier:

Our final port-of-call was Curaçao. I was much more taken with this tiny island nation than I was Aruba. Since, as noted, I grow bored quickly at a beach, I was a lot more interested in strolling the streets of Willemstad, which is a much bigger city than the towns on Aruba.

Both were once part of the Netherlands Antilles, and Dutch influences were to be found everywhere.

It was striking how much the narrow streets in the downtown area of Willemstad resembled Amsterdam. (Except for the lack of coffeeshops.)

Like Amsterdam, the narrow alleyways of Willemstad are often decorated with wonderful random art accents.

We found a charming little city square and snacked on French fries.

We just loved this 3-d mural!

After exploring the downtown area, we wandered elsewhere on the island for awhile. We saw same actual iguanas running wild, and climbed up the hill for a nice view of our ship.

And then, it was back on board, for more of the fun and games that made JoCo Cruise Crazy 2 so great!