| | | |
| --- | --- | --- |
| | Number 12 | |
Hello all and welcome to my most excellent web page! My goal in adding this page to the WTS is to entertain my fellow toasters, and maybe even a small segment of the rest of the Web. I'll endeavor to add something new every week, so keep checking in, or look for any announcements about my pages in The Wunderland Weekly News.
My offerings will fall into two categories: First, original works; artwork, music, photos, or writing that I'm collecting here for self-publication on a scale unimaginable a few years ago. Hopefully, the world's collective yawn won't totally blow me over, but I think you'll enjoy it if you've gotten this far. Second, Stuff I Found On The Web, brought back and held up to the light for your enjoyment. There's a whole underground world of music publication on the Web through a device called "MIDI", and I have a link page or two of my favorites for you to cruise. Also, in commenting on an issue or interest of mine, I'll write some essays filled with links for you to read.
Go directly to the corners of my electronic world by using the navigation bar appearing at the top of this page, or jump down below this section to find out what I've added this week. I'll also be experimenting with time, allowing you to scroll through previous weeks' versions of my pages where appropriate.


---
Here is this week's nanofic. Wow! It's a guest nanofic! My reader up in Columbia sent this down to me this week, and I'm sure he will now testify that it's not as easy as it looks after all. His story is such a good one, however, that I'm publishing it alone this week, so that my own work doesn't suffer from direct comparison. My next new story will be posted next week.


Best to Clean House on the First
By John Seylar
Take control, Asil decided. Her shoe smashed the spider sleeping on the floor. She felt so in-control, she yelled "You're all going to spider heaven today!"
Peter's boss proclaimed, "Better get the gate area. clean before the month-end inspection, you procrastinating punk!" Peter grabbed a shoe and started sending bugs back to Earth.
Less of a Bum
Last week and this week have been pretty productive, so I'm not allowed to complain anymore. This weekend's "Operation Last-minute" went off as planned, mostly, to my surprise. I managed to get a tiny spot at the Washington Folk Festival to sell my music stands, despite having only heard about the festival on Wednesday. I called the organizers and showed up on saturday and discovered that they had a half-a-space left over in their layout, so they let me in. The festival was a blast, but despite the strong attendance at the fair I sold no more stands than I did at May Revels. I received several educational benefits, however. First of all, it's time to change my pricing schedule. My original price is turning out to be lower than many peoples' expectations upon seening the stands, and the labor involved in setting up at sales events is greater than I anticipated. Also, the single price scale isn't working. People want the smaller ones to be less, and it's obvious that some of the more artistic ones should go for more, and I've also got to have a method for getting rid of the older ones which are accumulating transportation damage. Secondly, I got some tips from other exhibitors on how to dress up my presentation, even in the oddly-shaped location that I had. Thirdly, do you know that there are these fuzzy rabbits that they can spin the fur from? Across the aisle from me was a bunch of spinners, along with a weaver, and an Argyle rabbit pen. They'd grab a rabbit out of the pen, pluck off the loose fur that was shedding at the time, and spin it into yarn (presumably to later be made into sweaters). I snagged some loose pieces of the fur that drifted over my way, and it is soooo soft!
But most of all, I re-learned what a niche of a market my merchandise falls into. When I started out, I intended to market these things as art pieces. (In fact, my newest ones, see the picture below, are coming out the bitchingest ever. These were also the ones that sold best last weekend.) My experiences at the Folk Festival reinforce the idea that I in fact want to shoot for a more decorative rather than practical emphasis to my marketing concept. Basically, a customer's gotta have some space somewhere suitable for semi-permanent display to buy a music stand that doesn't fold up.

Charles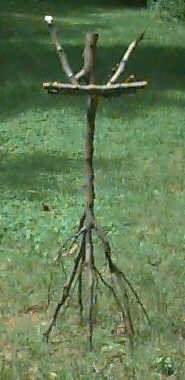 My latest music stand



Oh hey, here's some late breaking updates to some of the things I've mentioned in previous posts: 1)Channel 50 is no longer showing "Newsradio" twice a night. In fact, they're not showing anything -- it seems they've opted to go off the air rather than transmit any late night programming. Odd. 2) Cynicalman is now being published weekly on the web! Whoo-hoo! Thanks Matt and "World Famous Comics Network"! 3) I just have to re-iterate that Dragon Tails is just way too cool! Favorite quote: "Jeez, how long winded. I like my revenge quick and explosive." How the *hell* does this guy make these comics every day?


Other corners of my annex:
Play my MIDI links!
(why and how)
f1.7, Charles Dickson's Photo Essays
Future Links:
The Lisa Joy Adulation Page
Original Music by Number 12
Show Me Your Bus