Your Guide to Wunderland

[Games] [E-Books] [WTS] [Gift Shop]
---

New this week: Chapter 73, in which Christmas comes to the Federal Penitentiary
---



---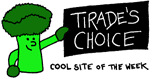 ---


---


---


The '60s
This week's film is a two-part Made-For-TV "movie event", which was surprisingly good. It's kind of like Forrest Gump, except without all that phony crap about a moron with all the luck.
---

Everest :-|
Scarce IMAX footage --
"The Making of 'Everest'"
was a better film.
---
This site built by:

---


---

Comments?
Send email to LooneyLabs
---


Thursday, February 11,1999
---

---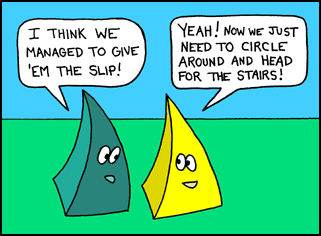 ---

This week we've been busy creating our first print catalog. It's a fan-fold Pocket Catalog, about the size of a playing card, listing only the items in our Retail product line, i.e. the ones we've produced in large enough quantities so as to permit wholesale pricing, for placement in stores. The 4 products currently comprising our Retail product line are Fluxx, Aquarius, 53 Spades, and Proton. (We're calling our other 20+ products our Experimental product line). We've actually created 2 distinct versions of our Pocket Catalog, one for consumers and one for retailers. (Henceforth, we'll be including a copy of our consumer catalog with each order we fill; if you'd like extra copies, just ask.)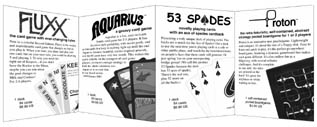 In a related story, we have this week added something new to the LooneyLabs site, called the Retailer's Back Room. This is a secure purchasing venue (much like our long established gift shop) in which store owners / managers / buyers can purchase items from our Retail product line at wholesale prices.
This is all part of a general effort to get our product line into more stores across the nation, and is specifically in preparation for Toy Fair, an enormous event held each year in New York City, where retailers from around the country converge to inspect -- and place orders for -- all the new games and toys on the market. We won't be getting an actual booth at Toy Fair, but we have arranged for our retail line to be on display in the booths of two other companies: ICE (publishers of the Second Edition of Fluxx), and Discover Games, a company which represents an assortment of small, independent game companies (like us) at events like this. In both of these booths, our new Retailer catalogs will be available alongside demo copies of our 4 games, in an attractive catalog-dispensing display we built over the weekend.

Anyway, Enjoy Life!
---

I've been invited to be one of the Guests of Honor at a Technicon 16! (It's a science fiction convention that will be held next month in Blacksburg, Virginia)
It's depressing watching these old Dragnet reruns on TV Land, and hearing intelligent characters argue for marijuana legalization, with the prediction that, within 10 years, 15 at the most, it would be taxed and sold just like liquor. Those shows are now over 30 years old... what went wrong?
"Mopping the floor while the faucet is running" - Dutch expression used to describe the folly of America's War on Drugs