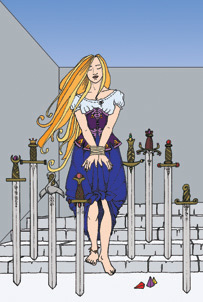 Zarcana: The project has totally stalled, but Alison and Petra have been working on art for a new tarot deck. Someday, when they finish it, we plan to publish the Petralison Tarot in two formats: as a standard tarot deck, and as an official Zarcana deck. The later would then be included in a Zarcana boxed set, which would include black pieces along with 3 cool new colors: gold, silver, and copper. But such a product is a distant dream, so in the meantime, you can see more Petralison art samples on older versions of this document (in particular March 2003 and March 2004).
Homeworlds: My vote for the 4th boxed Icehouse set is Homeworlds. I envision it being a standard 4 color Icehouse set, accompanying by 6 Good/Evil cards and a special Binary Homeworlds carrying case. The tricky part is the carrying case... I know exactly what I want it to be like, but in order to get them made, they might have to come with a free flashlight.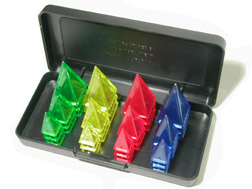 Hypothermia #16: Every now and then, we publish a free newsletter featuring new Icehouse Games. The next issue is long overdue, and there are plenty of interesting new games out there we could consider featuring, but we just don't have time anymore to playtest all the new games that people suggest. What we need is some mechanism by which the Icehouse community, as a group, can playtest, evaluate, and rate the new games, and then tell us which ones are the best so we can publish them in the next Hypothermia...