To celebrate the release of our newest game Treehouse, the theme this year was Trees!
As usual, we made a new set of Fluxx promo cards for this year's convention season. (You could get them in our Booth, or in the Lab, or even out in the Hallway!)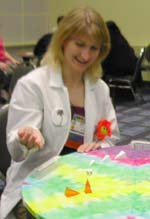 To get the Forest Goal, you needed only ask for one at the Booth. Rabbits were giving them out free everywhere. But to get the extra Tree Keepers that make the Forest complete, you needed to play Treehouse with our Rabbits!
We made 3 kinds of Trees: Pine Trees, Fruit Trees, and Palm Trees. Each official Treehouse Rabbit was issued a large button showing which Tree they were (notice for example that Robin was a Palm Tree) and if you saw a Rabbit wearing a Tree you could ask them to play Treehouse with you, and if you won you'd get the Tree they were giving out!
Since Treehouse is such a fast and easy game to learn, it wasn't as hard to get the full set as this might sound like it would have been. It's true there were times when people had trouble winning all the cards, but we encouraged our Rabbits to bend the rules when people had difficulties in winning. Best of all, since Treehouse is so much fun, our Rabbits didn't mind playing it over and over again for 4 days straight! (Thanks again Treeouse Rabbits! You-all rock!)