The Lab and the Booth weren't the only places we were having fun at Origins...we even ran events out in the Halls! Of particular note is the giant tie-dyed tree Alison transplanted from Las Vegas to a spot in the hallway near the stairs leading up to the Lab.
Andy vs. Everybody
Once again I did several sessions of this wacky game-playing marathon. I didn't manage to keep statistics during the first session, but in the second I won 8 games while losing 19, and in the third I only won 3 while losing 20! But it was a heck of a lot of fun nonetheless.
Giant Pyramids
As usual we played with the novelty over-sized cardboard versions of our Icehouse gaming pyramids, and as usual it was not only fun but attracted plenty of attention. Shown below are giant IceTowers and giant RAMbots... many giant games of Treehouse and Zendo were played as well.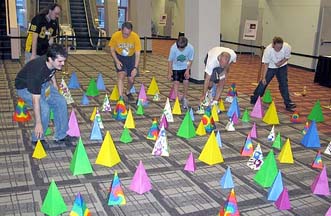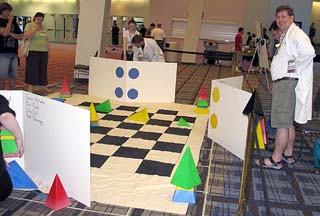 Looney for Learning
Down the hall in a yet another room, nearly 50 teachers met to talk about using Looney Labs games in their classrooms. Carol created a new educational uses brochure, and between that and all the free copies of Nanofictionary and NanoBlanks we were giving to teachers, the seminar attracted quite a standing room only-sized crowd.
Carol said in her report, "A conservative estimate from Origins staff suggested that we had between 10-25% of the teachers who were actively part of the THP (Teacher's Hall Pass) events (408 teacher badges had been issued by Friday evening, and they estimated that about half would take part in any THP events, the rest were just here to game for free). So, 50 of 204 = just under 25%. So, all in all, we rocked the house."
Next year, we've been asked to run this seminar twice, and to expand our time so we can have more discussion and more playing time.
So here's an extra Thank You to our Teacher Rabbits: Amy LoCurto, Di Sudduth, Jay Forbes, Tonya Woodbridge, Johnpaul Adamms, and of course Carol Townsend.
A Note About Recycling
It was wonderful to see these "Rumpke Recycling" bins positioned at strategic points around the hallways, partly just because it's always great to see recycling bins where you need them, but in particular because it meant we were no longer offering that service ourselves. And by "we" I mostly mean our awesome Recycling Rabbit, 'Becca Stallings, who was free this year to simply enjoy the events with her family instead of collecting used beverage containers.
You see, for several years 'Becca took it upon herself (with a little help from some of our other volunteers) to set up recycling bins at Origins, carting the cans and bottles she'd collect off to the Recycling Center herself. But as of last year, GAMA has been arranging for professional recycling pickup services at Origins, thus making it something we no longer have to worry about. Yay! Thanks to all concerned! (Now if only we could get GenCon to follow suit...)
| | |
| --- | --- |
| It was great to see Russell... I had heard he wasn't coming so it was a great surprise to find that he'd decided to show up after all. Russell is working for R&R Games now and we wish him all the best! | Then there's Robin, who was around all the time, but since she also took most of these photos, she doesn't show up in very many. No matter how busy we'd been each day, Robin was seen logging on every evening to stay on top of everything (using the wireless internet available in the hotel lobby). Plus of course, Kristin was often on the phone... |