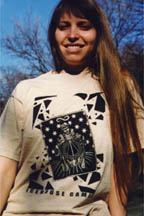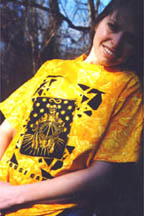 The Icehouse Games T-shirt
This shirt was originally created for the 8th International Icehouse Tournament, but Dave Choat's lovely design has a Zarcana flavor since that event also featured a Zarcana tournament. It's currently available in 2 colors: a yellowish tie-dye and an unbleached, naturally tan colored cotton.
The Icehouse Patent T-shirt
Richard Garfield isn't the only one with a patent for game design... he's just the only one who's patent is particularly valuable. Even so, we were so pleased with our patent that we made these shirts up to celebrate its issue. These silver-gray shirts feature the title, abstract, and primary drawing for patent #4,936,585, which descrbes the method for playing Icehouse. Due to dwindling stock, available now only in M and L.