Dragon*Con 2003 Rabbit Recap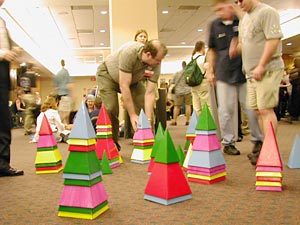 Hello, all!
Many of you already know me—but for those of you who don't, I am the Rabbit Coordinator (and really really happy about it!). Kristin and I are still working together to get me more fully engaged in supporting the Rabbit program, and you'll be seeing much more from me in the near future.
I just got back from Dragon*Con, where we ran a lot of different events, all around the convention. The Rabbits that were working with us were great—we all worked very hard, but we had a great time and a lot of fun. You can see what sorts of things we had planned.
To the Rabbits that helped in the planning and the execution of the events at Dragon*Con (Josh, Clark, Brian, Bob, Maria, Mike, and Don) I'd like to start by saying, thanks for helping us make Dragon*Con fantastic! Our participation at this convention can only be called a resounding success.
| | |
| --- | --- |
| "Our participation at this convention can only be called a resounding success." | |
I know everybody was very impressed with our presence at the convention, and how much fun we were all having—and especially important—how much fun all of the people playing our games were having.
We found lots of "proto-Rabbits" at this convention, and they were all eager to jump in and help us out. I know many of them will be helping at future events. Their responses were very positive - not only did they like our games, but they liked each of the Rabbits demonstrating the games, too!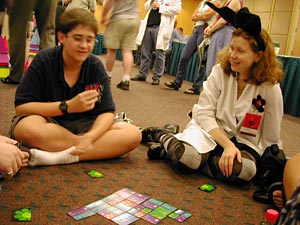 As you all know, the Mad Lab Rabbits mission is to multiply, and the good work we all put in at this convention clearly led to much multiplying. I know the proto-Rabbits felt charged up from the energy they got from the great interactions they had with us, and with the other people who played with us. One of them said to me, "I came to this convention with one friend, but I'm leaving this convention with lots of new friends!"
I was told by several other D*C attendees that it seemed like we were everywhere—playing giant pyramids, colorfully present in the game room, staying up late each night playing "Are You A Werewolf?"—everywhere anybody happened to glance, it seemed like there were Rabbits and fans playing our games. Even though we were a pretty small group, I know our presence was definitely felt.
| | |
| --- | --- |
| "[…] everywhere anybody happened to glance, it seemed like there were Rabbits and fans playing our games." | |
The Werewolf games were very well attended. I know there were games that lasted all night, all three nights of the convention. It was enormously popular. There must have been hundreds of players that floated through the many active villages, but I personally gave up trying to count.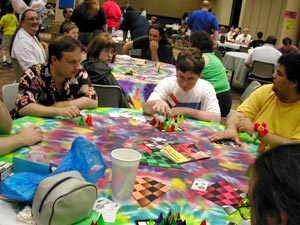 The Dragon*Con's response to our efforts was also very positive. I was approached by one of the gaming directors about plans they already want to start making for next year. They were very impressed with everything they saw us doing. That is good news … as we continue to participate in this convention, we'll see our events continue to evolve in new and exciting ways.
Although I helped out at Gen*Con with the booth and the recycling program, this was the first event I took on as the Rabbit Coordinator. It was a lot of fun planning this convention, and the Rabbits were great to work with.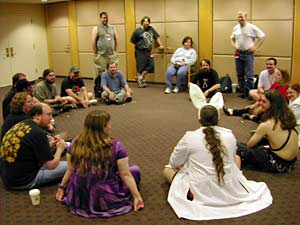 I think it was Brian who said to me, "At one point or another, I've been paired up with all of the other Rabbits at this convention, and I've enjoyed meeting and working with every one of them." I know I felt the same way … not only did we manage all of the events we planned on, but in some cases we ended up doing extra things we hadn't planned ahead for, like Maria and Petra helping out in the booth (thanks so much!) and the extra Rabbits who helped out in almost every planned event that we did.
I can only say - I'm overwhelmed by how incredibly well this all went - and I don't think I can possibly say THANK YOU enough.
Thank you all for all of your hard work - and most of all, for being Mad Lab Rabbits and promoting our games!
Game Attendance
Here is a list of the games played at each main gaming hall session, along with a tally of the number of unique players for each game. Note that some people played more than one game, and some people played individual games more than one time. Totals for AYAW are only approximate, and I don't have any numbers for the various giant IceTowers demos that happened in the hallways outside the exhibit hall and gaming hall.
On the 10th floor of the Marriott and elsewhere, the following games were played at least once, usually more than that: Aquarius, Fluxx, Gnostica, Homeworlds, IceTowers, Martian Chess, Nanofictionary, Proton, Q-Turn, Volcano, Zendo. This list is probably incomplete.
Thanks for playing Looney Labs Games!