May 26, 2023
In Rolling Stone, How 'Disney Adults' Became the Most Hated Group on the Internet. On Reddit, anyway.


The Rolling Stones on the Mike Douglas show, in 1964. An earliest TV appearance, they play Carol, Tell Me, Not Fade Away and I Just Wanna Make Love to You; and curiously, they're not lip-synching the first and third numbers, while the second and fourth are the studio recordings (who's playing the tambourine?) Don't miss the break with lucky fans Gloria, Donna and Susan.
April 24, 2023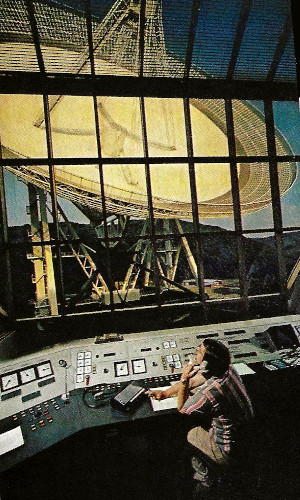 From the May 1974 National Geographic, the 100-meter dish at the Max Planck Institute near Bonn in "The Incredible Universe" cover story. My reaction upon seeing this just now was
"Hello? Hello? Anybody out there? Hello!"
April 20, 2023
A pair of new, official Beatle videos: I'm Only Sleeping and Here, There and Everywhere (featuring Lucy in the Sky).


Extraordinary Richard Misek documentary: A History Of The World According To Getty Images.


I learned about tightening nuts & bolts way before I ever heard the kinda hincky "rightie tightie, leftie loosie" mnemonic. When forced into some odd orientation by the task at hand, I use the right-hand rule to remember. But the equivalent expression in Spanish is worth noting:


La derecha oprime, la izquierda libera.
"The right oppresses, the left liberates."
April 16, 2023
Back from second visit to Mendocino, charming village on a bluff above the Pacific Ocean, location reminding me of Dunwich, the city that fell off a cliff.
April 11, 2023
Tokyo Weekender on Japan's Most Elusive Train: Doctor Yellow, a pair of yellow shinkansen specifically for diagnostic/maintenance tasks. Related: at CNN Travel, New trains and new rail routes to experience in Japan.


There's a lot to explore on Floor 796, an intricate mosaic of animated GIFs. Drag to navigate; click for more info; about (Google translation from the Russian).


Probing why 'March Of Time' narrator Westbrook Van Voorhis sounded like that led me to this Babbel magazine Announcer Voice article, says it's the trans-Atlantic or more commonly Mid-Atlantic accent, a contrived blend of British and American English (rather than how they talk in Philly and Baltimore, the region 'Mid-Atlantic' more commonly refers to, today). Lots more good stuff at Babbel.
April 4, 2023
March 29, 2023
There's a campaign in the UK I support called Pipe down, or the Pipedown Campaign for Freedom from Piped Music. They've had some successes. In Oxford, specifically, Slate reports on Fifteen Minutes of Blame,

How a wonky city-planning concept went from PowerPoint presentations to global right-wing conspiracy theory.

So, what's a Fifteen-Minute City? A place where

most residents can access goods and services within a short walk or bike ride of home.

Opponents cite something from the UN called Agenda 21, whose goal, according to the Slate article, is to

abolish the suburbs, confiscate F-150s, and force citizens to move to cities.

A column in the Financial Times states that the Anglosphere needs to learn to love apartment living, since

the answer to so many woes in the English-speaking world is to unburden ourselves of our anti-apartment exceptionalism.
March 16, 2023
According to Esquire, Mark Twain had an Idea for a Philippine Flag, rendered above. This was when the US was colonizing the islands, after liberating them from Spain.

For reference, the current Filipino flag, and something else from Asia, similar: the flag of Malaysia.
March 14, 2023
At Design You Can Trust, a set of Wonderful Photos Of The Sinister 1960 Cadillac. These are all Eldorados without any of the lower fins (which the GM engineers called skegs) which sprouted on all the '61 Caddies.


A Brief History of Teenagers, at the Saturday Evening Post, five years ago.


More floppy: BuzzFeed News reports, Chuck E.Cheese still uses Floppy Disks to make its Rodent Mascot Dance. I've been inside that place once or twice but never seen the dancing robots, just bad pizza and a lot of kids. Regarding floppies, however, I used the 8- and 5-inchers at work but got the most utility out of the 3.5"s. For over ten years they were essential for transfering the links & etc found at work back to the home computer -‌- a perfect fit in the shirt pocket, but eventually replaced by a flash drive on my key-ring.