August 25, 2021

If like me you're into Vexillology this flag might be familiar, except for that lower, purple bar. It's the Spanish Republic, which lost their Civil War to the Falangists (better known elsewhere as Fascists), a stuggle which continued into WWII, and really, up to the present day. On the one side, the land-owners, the bankers, the Church, the country-folk, and the military; on the other, the factory or office workers and trade unionists, the artists (and lovers of pretty things), the scientists and those cosmopolitan intellectuals.

Speaking of, Over-Explained Lists put together State Flags, Ranked, which annoyed some. One random comment: "How do you rank so many phoned-in 'State Seal on a Blue field' flags above some objectively great flags" ...like DC's, coming in at only #41. Although they doesn't address our states, more valid flag criticism is apparently found at WorldFlagsGraded.com, where you can sort their list by their score (based on attributes like Hurts My Eyes, Too Many Stars and Makes Me Nauseous) as well as alphabetically. I remember reading somewhere that brown is such an unpopular color, no country uses it in their flag. Parsing the list, seems like about ten have some brown, but maybe that's just browser color-rendering issues -‌- looking elsewhere, I see the former Soviet state of Georgia's described as crimson, and Qatar's as maroon (or sun-faded red). Zambia seems to be the exception that proves the rule. State flags don't obey it, however; the prime example being California's brown bear. One other, unrelated similarity: doesn't Somalia's looks like a faded Bonnie Blue?

Alec did a whole Technology Connections on the color Brown, but his focus is the viual; no mention of the mythical Brown Note.
August 1, 2021
A couple sticker-tags spotted around the neighborhood.
The photo doesn't do the first one justice -- it's printed on holographic rainbow foil.

June 11, 2021

Working now, but imparts a rank taste to the waffles, alas
May 21, 2021
I'm restoring my mother's century-old stove-top Griswold waffle iron. The focus of most guides to restoring cast iron is rust, but my problem's with over-enthusiastic seasoning, which leads to baked-on crud, which must then be meticulously scraped off. This process reminds me of the dentist, and the long hours being worked over in the Chair of Agony as the dental hygienist scrapes the tartar off the enamal under my gums. Her traditional tool for this is the scaler, or plaque scraper, and I do have one of those (even as the switch to ultrasonics is greatly appreciated) but I'm getting better results with the tip of a new, flat-blade screwdriver.
December 24, the Night Before Christmas
Earlier in the epidemic, back in July, we got window-swap.com (and here's something similar, for random forest sound samples from around the world: tree.fm) but we've just now received the ultimate gift for the armchair traveler: escapista.app. Choose your via: Car, Rail, Bike,* Walking; or even Beach, Urban or Historic, and away you go! Seems frustrating since you can't pause and there's no backing up, but you can get the general location by dwelling lower-right (and you can click on the title down there to jump to the source).
* realizing the dream of every stationary cyclist
December 19, 2020
Happy Holidays!
October 31, 2020

Happy Halloween!
October 2, 2020
"Here's something special - a new structural principle."
Been making icosahedra since grade school, with plastic straws and string. Recently I've been making dodecahedra with toilet paper rolls, those tubes which are usually discarded. Toiletpaperfullerenes and Charmin Nanotubes suggests cutting 30° loop-strips from the flattened tubes and using interlocking triplets of these elements to form the vertices of pentagons and hexagons. Points to a Tweet with detailed instructions for building your own dodecahedron. Challenge! Four rolls should be enough. On the right, the low-watt lampshade I made by nesting one inside another... its brown paper media looks like something from Muji. Saved 'em up (paper towel tubes work as well) and made a second-degree Buckyball (AKA a socccer ball) but I really like the simplicity of the dodecahedron. Also, just learned of Roman Dodecahedra -- according to Mental Floss, Mysterious Bronze Objects that've Baffled Archaeologists for Centuries, until recently. The Roman form has knobs at the vertices, for knitting gloves? I can understand the fingers, or toes for toe-socks, after watching this, but not a whole glove. Desiring one to play around with, looks like my only option is a local 3D printer, using the necessary .STL file, which I found at Thingiverse.
July 26, 2020

This ball of insect fell out of the sky yesterday, landing at my feet as I sat on a park bench. Eventually I realized they were June bugs, mating. Unlike humans, their passions weren't vigorous, but eventually she crawled away, leaving him motionless, possibly dead (if they're like honeybees).
June 17, 2020

There's nervous conjecture about voting this Fall, and rightly so. Columns like Trump Can't Just Refuse to Leave Office at Slate and Here's the Real Danger if he loses the 2020 Election at CNN provoke daydreams of his forced ejection, and remind me of a famous news photo from 1944, of the ouster of the CEO of Montgomery Wards, who didn't agree with FDR's wartime demands. Since nobody else seems to be accepting the challenge I was compelled to fire up my old Win98 laptop with its ancient but still operational Photoshop and give it a go -- click for my bigger, uncropped image, and feel free to pass it around.
April 3, 2020
The Absolute WORST Easter Candy, Ranked ...and the Best, too. Worst? Agree except for #3 -- solid chocolate is always better than hollow 'cause you get more (unless we're talking about Palmer). Also disagree with that Best list except for #8, Foil-Wrapped Chocolate Eggs (again, disqualified if they're Palmer).


March 23, 2020
Reports of hoarding and empty shelves in the shops -- it's like Y2K; grateful that TEOTWAWKI crisis was postponed for 20 years. Forced to stay at home, awaiting the inevitable plague, required reading is Poe's Masque of the Red Death since we're all part Prince Prospero now.
March 7, 2020
A global epidemic has been predicted for years; looks like it's finally arrived. Don't think anything will prevent most of us from getting sick, and not all of us will make it to the other side but I hope to see you there.
October 1, 2019

It's National Day in China and the Peoples Republic is 70 years old. CCTV coverage of the Beijing celebration, in Mandarin, or without narration. Remarkable highlights, mostly of the parade, since it's three hours:
0:12

Slo-mo goose-stepping w/ fixed bayonets and artillary salute

0:28

The Leader's motorized review of the Peoples Liberation Army

0:55

Soldiers march past Tianenman Gate for ten minutes *
(don't miss the women's divisions, at 1:02 & 1:05)

1:08

Military vehicles begin - Armed Equipment Formations

1:22

Drones (not flying) and hypersonic weapons

1:30

Mobile nuclear missle launchers

1:47

The Old Guard (or their descendents) riding atop 21 golden buses

1:53

The East Is Red

1:56

The pastel cyclists' oom-pah dance

2:30

Floats for Cities and Provinces - note the creative use of screens


2:49

Balloon release - Finale
Longer, five-hour version with English narration and superfluous two-hour pre-show -- just add that offset to jump to the above times.

And finally, dig the crazy low-res pixelated 'urban' camo their military's using now:

January 1st, 2019 -- Happy New Year!
August 3, 2018
National Ice Cream Day, survey results -- who likes which flavors.


Thanks, Daniel Tuttle, for Stop Clickbait. We need updates, or ideally, a mouse-over browser extension which would do this whenever.


Wonderful -- Things the Soviets Made -- especially for the snowmobile, the telephone and the hover car, but there's much more.
July 19, 2018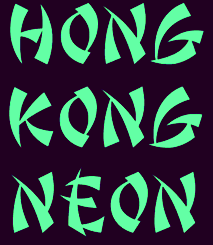 Here's something new -- a page of photos I took of neon signs in Hong Kong. Down at the bottom, some more neon links.


June 24, 2018
CNN International -- Beijing gets tough on dancing grannies. They're charming when you first see 'em, but they can apparently get quite obnoxious.


Here's something I've wanted for a long time, a documentary on the Depression I'd see on public television. A videotape was occasionally available, but always too expensive. Like so much, it's available at archive.org (or at least, the first half) -- America Lost and Found.
April 21, 2018
Updated the Japan Chronicles to include a short, illustrated account of the most recent, almost disastrous trip, just the stopover en route to the Middle Kingdom now almost two years ago. Someday here, a China page.
March 6, 2018
To commemorate his passing, here's some of his earliest material, long thought lost: Rare Joe Frank MP3s. The link's to a new page in the Misc section, which has more info about the artist and story-teller a Wall Street Journal columnist once called 'Radio's Prince of Darkness'.
January 7, 2018

Back from the East, holiday travel. On the last day, dropped in on the first Washington Monument en route to the aerodrome. Contrast with the Indian Watchtower we visited on Thanksgiving Day. The Watchtower is 70 feet tall, finished 1932; while that Monument's only 40 feet, rebuilt in 1936 by the CCC.
Rome2Rio.com is a site which generates up-to-date info for all available modes of public transport between any two city pairs entered, not just flights.
December 2, 2017
Incredible -- Flags of Russia. It's a blog, so maybe start at the beginning with the atom-splitting bear of Zheleznogorsk.


Back in July I was railing against autoplay on News pages; the Firefox about:config solution involves changing the image.animation_mode and media.autoplay.enabled settings.


Great new pic of Jupiter from Juno's Perijove 09. Also, the Great Red Spot from Perijove 07.


Two new buses -- the Volkner Mobil's Performance S, a private, luxury coach which can carry its own auxilliary car. And I might like to try the new Cabin 'boutique' sleeper bus which runs overnight between San Francisco and LA. It has two levals of capsule-hotel style pods the weary traveler can stretch out in. A short video review of the experience.
September 30, 2017
Whoa, where have I been? Nowhere special, but my computer troubles are finally resolved and completely back online now, so check back again for the occasional update.
June 6, 2017
New, official Elton John videos for Tiny Dancer and Rocket Man. That 'Tiny Dancer's so LA, so evocative; I wish I could share it with David.

Imagery from the heavily-shielded Juno probe, compiled from its Perijove 05 and Perijove 06 passes over Jupiter. It's all kinda twitchy because the spacecraft's rotating at about at about 3/min.
April 16 - Happy Easter!
According to The Telegraph, the world's coolest passports are apparently issued in Scandinavia and Canada. Also shows some interesting entry stamps, like Easter Island's.


Concerning two million-dollar 'face' gold coins -- a 221-pound Canadian Maple Leaf, and Australia's One Tonne Gold Coin. One of the Canadians (apparently, about twenty were minted) was recently stolen from a museum in Berlin.


Ah, 'Fantasia' -- "a new form of musical entertainment," according to our host, Deems Taylor. Saw it in the theater at least three times in the 70s (once, at Radio City Music Hall), and I'm now in possesion of the original 'Disney Classics' restored version, with its aggresively stereo Fantasound soundtrack. My favorite sequences are the abstract Bach at the beginning, and the mythological Beethoven. Also wondering about what was cut in the latter, this side-by-side comparison with & w/o Sunflower shows all. Plus another, related YouTube, the movie's original Claire de Lune, initially cut but surfacing a little later with some version of 'Blue Bayou' for the music; don't care to know which.
December 19, 2016
Christmas is here and at night the neighborhood's all aglow with twinkly lights. Something new this season, solid-state LED lasers projected through rotating multi-image lenses which create a galaxy of moving dots on garage doors and suburban façades. They're usually red and green, apparently a price war among big box retailers has them selling the 'Star Shower' for $40. That company also markets a Patriot version, in red and blue; but I was intrigued when I spotted a nearby house projecting the most desireable blue and green combo. Further research indicates its source probably the much more expensive Bliss Lights or the sold-out-this-season Laser Christmas Lights. Who were the 1970s pioneers of these laser displays? Ivan Dryer, the 'Laserium' guy; and especially Rockne Krebs.
December 4, 2016
Here's a company, Supernova, which sells a blue taillight for bicycles. Since this isn't legal in many jurisdictions, they've posted a handy state-by-state list of blue light laws. I'm now wondering about green, and purple -- the latter may be too close to law enforcement's special blue wavelengths. Speaking of green, there's a new Wal*Mart-supported initiative which surfaced around Veteran's Day -- replace one of your porch-lights to "support the troops." There's several in my neighborhood (one house even has four) but at first I guessed these were simply devout Muslims, green being the color of Islam and emerald lights, a common night-time indicator of mosques.


Someone is stealing sunken WWII battleships (possibly for their low background steel).
October 29, 2016
Halloween and The Holidays are here, so it's time to talk about Chocolate. In Vox, they rank Halloween candy (worth reading just for the anti-raisin rant of #23); plus a couple opinion pieces, Why Milk Chocolate is Better Than Dark Chocolate and Megan Garber won't brook any discussion, in the Atlantic -- Milk Chocolate is Better Than Dark Chocolate The End.
(Update to the latter, in reaction to its comments.)
August 28, 2016

Back from the travels, a very successful voyage to far Cathay and, briefly, Vietnam (and HK!) Here's my personal travel banner, updated.
Also, a list of personal flags.
February 27, 2016

The Four Brothers, last month
December 26, 2015
Happy New Year!
From The Commercial Zen of Muji by Silvia Killingsworth, in the New Yorker:
The colors, patterns, and materials are generic, but everything, from toothbrush holders to storage boxes, comes in pleasing shapes.
[Their] compact all-white appliances are described by a display sign as having "a square shape tinged with mellow roundness."
Its advertising conveys the sense that life without logos, loud colors, and sharp edges is peaceful and free of distraction and excess.
December 5, 2015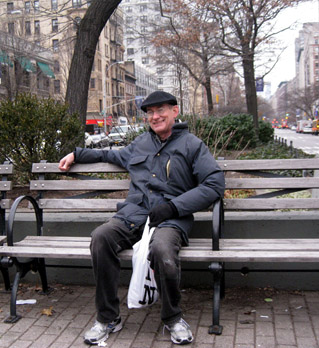 In New York a year ago, on Broadway.