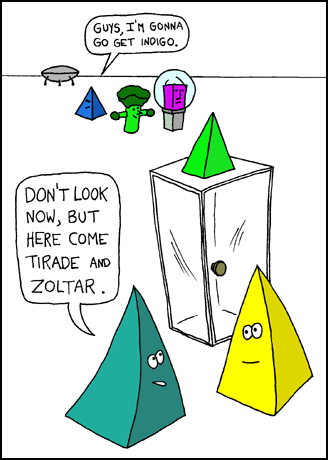 First, the New Stuff:
Chapter 43 of the Empty City (which consists of a short story called "The Empty City", which won Second Place when I entered it in a fiction contest in college (although the prize was just some free movie passes))
---
The Icehouse Mailing List has continued to buzz with traffic and is showing no signs of letting up. This has resulted in an official change to the rule for False Icehouse calls. Also, Jake's Icehouse strategy has been diagnosed and labeled the "Shotgun". Lastly, I updated the Tournament Almanac.
---
This week finds us gearing up for Gen-Con. We've struck a deal with Iron Crown under which we take on the job of demoing Fluxx in exchange for a corner of their demo area in which to set up our living room and demo Aquarius too. We've decided to order up 2 new postcards to give away at the convention, one for Aquarius, and one for Fluxx. For the Fluxx card, I reshot the Time is Money image with a 2nd Edition card, and for the Aquarius card I created a cool new image that combines the most popular pieces of Aquarius artwork with a reminder about the rule that says the player with the longest hair goes first. So, if you're going to be at Gen-Con, be sure to visit our living room (look for us under our cool new signpost now being constructed by the Pittsburgh office) and pick up copies of our new promo postcards (assuming they arrive from the printers in time... keep your fingers crossed).