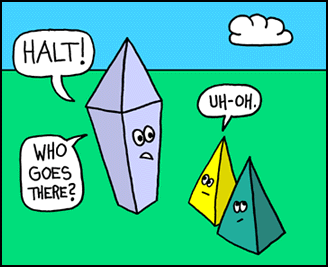 First, the New Stuff:
---
It hit us like a ton of bricks this week: Christmas is only 2 months away! At this rate, it will be upon us in no time!
Naturally, we're hoping that when this season's gift buying frenzy begins, you'll look to us as a great place to find cool stuff for everyone on your gift list. Avoid the crowds at the mall and shop on-line!
However, while we do already have lots of cool stuff available for sale here, we also have a long backlog of ideas, and with Christmas coming soon, we want to get as many of those out onto our virtual store shelves as we possibly can. To give you a sneak preview on what we have planned, take a look at What's On the Stove.
One idea that's been on the back burner for years is the Calendar T-shirt. The one we made in '92 was very popular, and we've talked ever since about doing another one. And '99 is the perfect year for it, since the whole shirt becomes a Countdown to Meltdown, marking the days to the Y2K End of the World party on December 31st. It's absolutely the right time to bring this product out.
However, designing a cool new calender T-shirt is a big job, and we've just been so busy with Aquarius this summer that I haven't had a free moment to work on it. And now suddenly, it's mid-October, and with the turning of the leaves came the painful realization that if I don't start working on the calender T-shirt design right now, we won't be able to do it this year. (To fully take advantage of the Christmas shopping season, it's got to be ready for sale on Thanksgiving Day, which means it's got to be sent to the shirt printers at the beginning of November... and that's just two weeks from now! Yikes!)
So with all this work on my plate, Kristin decided that I'd better take another sabbatical. My wonderfully understanding employers, LavaLogic, agreed to let me disappear for a while, so I'll be going at this full-time until Thanksgiving. And I should be able to get not only the calender shirt but a whole bunch of cool new products ready for sale. Tune in next week when we set up an online marketing survey, which will let the buying public participate in the product design process.