GenCon 2006 Report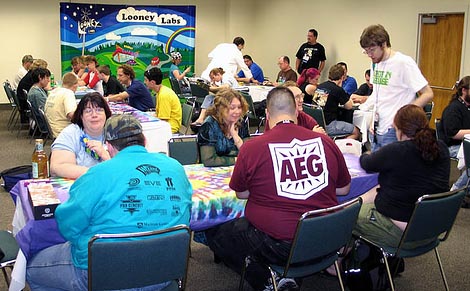 By Andrew Looney
Photos by Robin Vinopal and Josh Drobina
Every year at Origins, we put on a really big show. We call it the Big Experiment, and we finished our 7th one just a few weeks ago. We ran the official annual tournaments for all our games, giving out 45 nifty prize medallions during the course of 4 days of intense competitions. But Origins isn't the only big gaming convention of the year, and hot on its heels is GenCon, which draws even bigger crowds to Indianapolis every August.
In 2004, after 7 GenCons where we mostly just did a booth, we started creating a Lab filled with Looney games & events, similar to what we do at Origins, although more casual. We've been calling this a Little Experiment, since that's the name we use for any random session in which we encourage people to try out our games (not counting the Big Experiment (or the Pop-Tart Cafe)) but actually, we need a better name for the collection of events we put on at big conventions other than Origins. But whatever we end up calling it, this was our 3rd such GenCon Experiment.
A lot of what we did at GenCon was similar to the show we'd just put on at Origins. Once again, we had a booth-within-a-booth in the Exhibit Hall, with a Looney Labs demo zone in the Paizo Publishing booth, where our games were for sale (along with those from Paizo and Cheapass Games). Down the hall, once again was our Lab, a whole room devoted to Looney fun, with action spilling out, once again into the Hallway almost all of the time. And since Treehouse is still our biggest recent release, Trees were once again our theme. Space limitations prevented us from displaying Alison's enormous tie-dyed tree, but we gave away massive numbers of Pine Trees, Fruit Trees, Palm Trees, and even whole Forests, in the form of this year's set of set of new promo cards. (For those who missed out, these 4 cards will all go up for sale in our online store in the next few weeks.)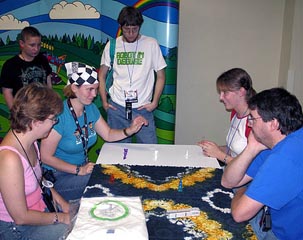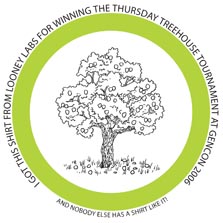 But we also did some cool new stuff just for GenCon. Since we want the Medallions to be a Big Experiment thing, we decided to make another type of prize for the winners of our GenCon competitions.
We created a set of 5 special one-of-a-kind prize T-shirts to award to the winners of the 5 tournaments we ran in the Lab during GenCon. 3 of these shirts were for Treehouse Tournaments, with the other 2 being for EcoFluxx and Family Fluxx. These 5 shirts featured the Trees that make up the Forest seen on the Forest promo Goal: the Pine, Palm, and Fruit Trees appearing on the Treehouse promo Keepers, plus the Trees from EcoFluxx and the Tree from Family Fluxx. In a circle around the Tree on the shirt is text that reads "I got this shirt from Looney Labs for winning the (whichever) Tournament at GenCon 2006 and nobody else has a shirt like it!"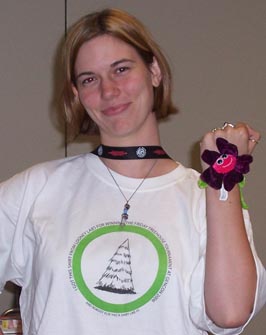 To the left is Marissa Wills, winner of the Pine Tree shirt, and that's Christine Szulczewski I'm congraluating below, as she receives her Fruit Tree shirt. Both Marissa and Christine followed up their Treehouse Tournament victories by immediately signing up as Mad Lab Rabbits and teaching others to play Treehouse. Marissa even donned a lab coat and spent some time hawking with us in the Booth!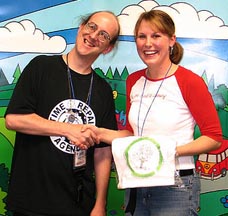 I don't seem to have the names of the other winners of these cool shirts, but I do have pictures of them, as you see here. (Those 4 in the middle below are the finalists in the Family Fluxx Tourney, but I don't know who actually won.) Congrats to all 5 Tree-Shirt winners!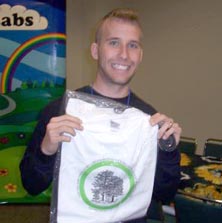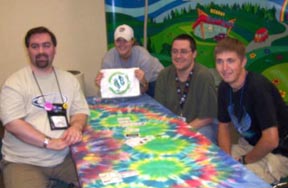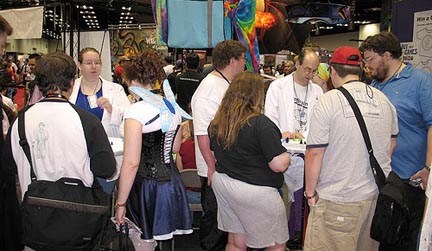 Here's are some typical scenes in the Booth... we were always very crowded!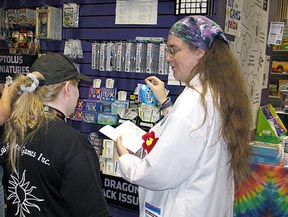 We also ran a couple of great sessions of Andy vs. Everybody. The two sessions attracted around 30 players each, and in both cases I won about a third of the total games (12 out of 33 and 12 out of 37). Notice how my hair is flying back in the photo on the right below... it's a small indication of the way I frantically rush around during these things, which photos usually don't convey.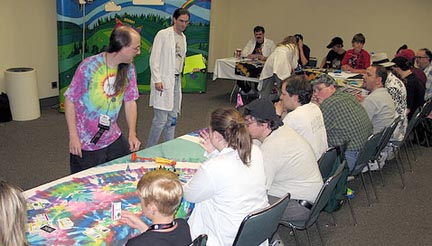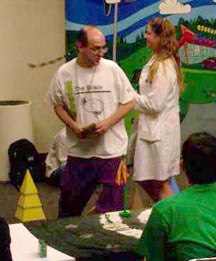 At most any time of day you could find folks playing something with giant pyramids, usually either IceTowers or Treehouse, as seen here. Of course, it was only because we had so many excellent helper Rabbits on hand to keep these games going... thanks very much to all the Rabbits who helped out with their tireless efforts in the Booth, the Lab, and the hallways in between!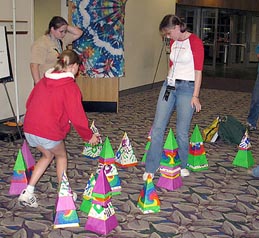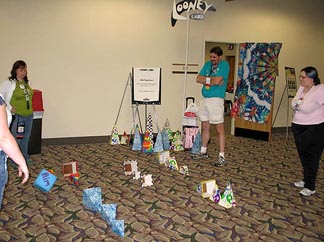 At night, the Werewolf-hunters come out to play, and the crowds were bigger than ever... with a new circle starting up every few minutes, the crowds kept the games going for hours on end, staying up playing all night in some cases, with peak moments featuring as many as 5 circles (with 15 players each) trying to find the werewolves at the same time. (By the way, those are reigning long-hair champ Meg Gandy's tresses hanging over the back of her chair across the circle from me.)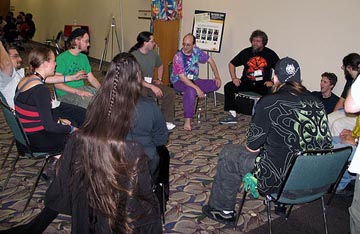 Here's another typical scene of our fun-filled lab, and that's our Rabbit Coordinator Josh sitting in his usual spot, behind the command desk in the Lab. Thanks for helping coordinate another great convention, Josh!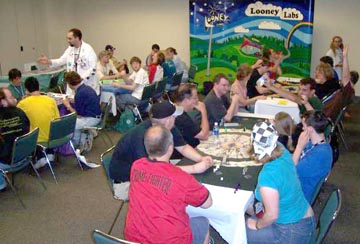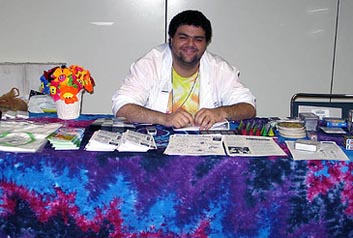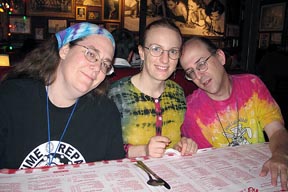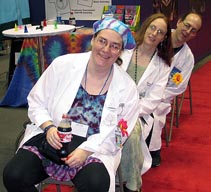 These last 2 photos show myself, Kristin, and Alison at the start and end of the convention. To the left you see the 3 of us clowning around in the Booth, just before opening on the first morning of the event, and to the right we're looking at menus in an Italian restaurant on the final day, after all the packing up and moving out was finished (and I was feeling very tired).
By the way, all of these photos were taken by either Robin or Josh, and there are lots more you can see at Robin's Flickr site or Josh's Gallery.
Anyway, it was a great GenCon. Here's a big thanks to everyone who helped make it a success, old fans and new rabbits both, including: