Summary
In early 2004 I made my seventh trip to Japan. Mission objectives were to visit the ancient capital of Nara, catch some Sumo, visit Hiroshima and its Museum, buy a new Minidisc player and shop at Muji, ride the bullet trains with a railpass, and celebrate my 50th birthday with lots of sushi. All of these goals were accomplished, and I had a wonderful time. This page summarizes each day of the trip, and the images are thumbnails -- click to zoom. There's a whole 'nother page of close-ups, don't miss, it's the best part; plus other pages devoted to sumo wrestling, castles, and Nara.
Jan 22
Arrival, after the usual 'Longest Day' 12-hour flight, staying at the familiar Hotel Sumisho in Ningyo-cho, a short subway ride from Ueno. They've installed a wonderful big ofuru, down a hallway off the lobby -- a wide trench 14 feet long, lined with black stone. This would turn out to be the most expensive hotel of this trip: ¥8000, including tax.
Jan 23
After the traditional jet-lagged traveler's sushi breakfast near the Tsukiji fish market, checked out from the Sumisho and stashed my bag in the cavernous (and remodeled) Ueno station, then made my way over the Sumida River to Ryogoku. At the Kokugikan stadium, I bought a general admission ticket to the sumo winter basho, but I wasn't going in until later -- first, I finally located the nearby Earthquake Museum -- my previous searches for this in 1999 and 2002 were fruitless. It's devoted to the 1923 catastrophe, although the grounds actually contain shrines and monuments to victims of
both great Tokyo cataclysms of the 20th Century: the great Kanto Quake and the firebombing of WWII. Unlike the crowded Hiroshima museum, seems like hardly anybody visits this dingy place. A painting of the Ryounkaku collapse was fascinating -- reminded me of the Tower of Babel. After a thorough exploration (which included lighting some incense for the victims), back to sumo in the Kokugikan (many photos on my sumo page), and after several hours in there I'd had enough, so I checked in to a business hotel near Ueno called the Tsukuba. It also had an ofuru downstairs, supposedly enhanced with radium -- don't know about that, but at ¥5200 theirs are the most reasonable Western accommodations I've discovered in Tokyo, so far.
Jan 24
Early the next morning (still jet-lagged) I was wandering around Akihabara Electric Town, always a fun place. Found a desirable MiniDisc unit but continued shopping to ensure the best price. Over to Yurakucho for the mandatory Tourist Information Center (TIC) visit, discovering they'd moved, once again, from their previous swank quarters in the International Forum into a small ninth-floor office on the other side of the tracks. After gathering ferry information I couldn't resist browsing through the Muji, nearby -- a huge branch, co-located with something called Sofmap, downstairs. Reinforcing the idea of the Japanese IKEA, this one has a restaurant labeled "MealMUJI." But it was crowded and non-traditional, so instead I found a curry place under the nearby Yurakucho tracks. Afterwards, comparison MiniDisc shopping at the annoying BIC store (every few minutes, their PA plays their theme jingle -- arggh!) which indicated a return to Akihabara, for MiniDisc purchase: a Sharp MD-MT270H.
Two images from the Akihabara souk: a bored guy selling vacuum tubes, and across the way, an LED guy doing a brisk business (and see that ¥1000 note? We'll be discussing its illustration later).
| | |
| --- | --- |
| | |
Rode the subway across town, pausing briefly to see the new development of Roppongi Hills, thence to Ebisu for the traditional stop at Good Day Books, where I found a copy of Botchan by Soseki Natsume, in a contemporary translation. Then over to Gotanda station on the Yamanote where I navigated into Tokyu territory (it's a private railway serving western Tokyo, as well as a chain of department stores) and found my way to the Kangetsu ryokan. Their reception wasn't very friendly, but their outdoor bath (or rotemburo) was fun, albeit small -- room for only one person, lying down. Sushi for dinner, at a nearby neighborhood place, where nobody spoke English (including me).
Jan 25
Back into town, stashed my bag in a coin locker at Shibuya station, then walked over to Omatosendo for an email check at the Yahoo!Cafe, upstairs from the Starbucks (free internet, and my ID card from the previous journey was still valid. Alas, a sign said they were closing 'for good' in a couple weeks.) I occupied the same station I favored previously, adjacent to the window -- happily, the computer was new, this time, the characters on its keys weren't worn away. Still had a bit of trouble inadvertently toggling into hirigana.
Walked back to Shibuya station, then checked into the Hotel Fukudaya, for another hopeless dialog with the old mama-san there, who recognized me and tried to make small talk, but (for her) it's like speaking with a moron. Then off to Shinjuku to locate the Golden Street area of teeny bars (which I'd read about in William Gibson's Idoru). Sunday evening is the wrong time for this, apparently -- none of them were open, but I happily recognized the area from the Wim Wenders' "Tokyo Ga" film. Then back onto the Yamanote line for dinner at the conveyor-belt Sushi-Daidokoya, a Shibuya favorite, since it's just down the hill from the Fukudaya (but next door, Kranz was closed! I was looking forward to some of their pecan pastry, the following morning.)
Jan 26


In the morning, back down the hill to Shibuya station (where Sushi-Daidokoya doesn't look like much, so early.) Today, my JR Rail Pass became active -- good for a week of unlimited travel on any Japan Rail train. Around the Yamanote to Shinagawa, then onto the train to Kamakura -- crowded, no seats available. I hunkered down at the end of a car with some breakfast pastry I'd bought at the station (yum -- melon buns). I'd been shown around Kamakura in 1999, but mein hosts were fading by the time we reached Hachiman and it was dusk, so we just looked up at the temple. I wanted to return, and walk up those steps (which I'd just seen a few weeks before, in Ozu's "Late Spring" film), and also to inspect that Miyazaki shop I'd noticed near the station but missed during the previous trip. A beautiful morning.
Tsurugaoka Hachiman-gu, and under-roof detail of the temple up top.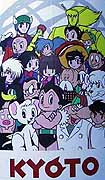 Then on to Odawara, beautiful sighting of snow-covered Fuji, a rapid (and delicious) lunch in Nagoya (downstairs from the station), and then Kyoto, to arrange tomorrow's lodging at the TIC across from the huge new station building there. Tezuka imagery was everywhere around the station -- Astro Boy welcomed me back to Kyoto (it'd been 14 years). They're still celebrating the year of his birth (2003). Finally, the train to Nara, with a subsequent walk through town to the ryokan Seikanso -- a great old-fashioned place -- my room had an round maramudo window inside -- I could slide open the shoji to monitor the hallway, if I wanted (but of course I didn't). It was now evening, and I did some laundry nearby (in one of those anonymous little four-machine neighborhood places) and compiled an in-room meal from local shops. In the previous ryokan I'd cursed the standard overhead fluorescent light fixture (with the usual pull-string for switching to a very dim incandescent bulb as the second setting), wishing for a candle to set in the ashtray. During my walkabout, a little Muji presented itself, where I purchased one (Made in Vietnam) for the desired illumination.
Jan 27

Strolled around the Naramachi neighborhood in the morning, and then rode the bus to Nara Park. That story (with photos) deserved its own page. Then, back to Kyoto where I rode another bus out to the Golden Pavillion, finally catching this most important Japanese sight. The sun was setting and the light rain was threatening to change to snow. Walked downhill to a tram station of the Keifu Electric, changed at Katabiranotsuji, and by the time I finally wound up near the ryokan Hinomoto (the lodgings arranged previously) it was dark. A good place, centrally located, and reasonably priced. For dinner I made haste to nearby Pontocho, the narrow alley I remembered fondly which parallels the river, where I had some okonomiyaki, that tasty dish usually characterized as a Japanese pancake, which is cooked on Benihana-style grills. They're not sweet, but contain shredded cabbage, powdered seaweed, an egg for binding, pork or seafood, plus a special sauce. Eventually, you'll see a picture.
Jan 28
Walking around Kyoto, had a sushi lunch at a little neighborhood place, run by husband, wife and young-adult son.

En route to the Sanjusangendo, I stumbled onto the Hokoku (or Toyokuni Jinja), a shrine Toyotomi Hideyoshi erected to himself in 1598 (foreseeing his imminent death). Tokugawa Ieyasu (the original Shogun) ordered it destroyed, but the shrine was rebuilt in 1880. The view is through the shrine's big torii gate, looking out at Kyoto. Hideyoshi's was version 1.0 of Osaka Castle, and he's credited with reuniting Japan. Tokugawa became the undisputed leader of Japan when his forces destroyed Osaka castle, along with Hideyoshi's son Hideyori, who'd taken over when Hideyoshi died. Then, the thousand images of Buddha, inside the Sanjusangendo.
Back to the station, then over to Osaka, where I braved the throngs in the central Osaka station. Found the local train to cross the Yodogawa river, where I checked in to the Hotel Oaks Reaze at Tsukamoto station, a comfortable distance outside downtown Osaka. Then I went back into town, for to see the lights of Dotonbori in the Namba nightlife district. (A photo is available, in the close-up section.)
Jan 29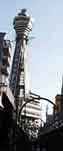 In the morning, walked all around and up to the Osaka castle. (My separate castles page has photos.) Lunch was in the top-floor restaurant zone of a huge department store, where all of a sudden an electronic version of "Hi-Ho, Hi-Ho, It's Off to Work We Go" blared out, over the PA. Walked through the trendy America-Mura area, where I stumbled across the Chax Colony store, which was on my list (due to "Gloomy Bear" references previously seen on the internet), but I hadn't been interested enough to look its address up, pre-trip. Then I rode down to the bottom of the Loop Line to explore the low-life Shinsekai district, with its Tsutenkaku tower.

On to nearby Tennoji Park; Quirky Japan claims this can be fascinating, in a shabby way, but maybe it was the chill air or the late hour, wasn't anything happening there of note. The thing I found photogenic was the blue tarps of the homeless hovels; there's rarely mention of this phenomenon, but a result of the post-bubble economy is shacks along the fringes, and in parks, invariably roofed with the same blue plastic sheeting we see home-owners deploy during the rainy season in California. Here's a couple photos:

The image on the right is a pedestrian bridge to the park, with a museum building in the background. Those forced to live like this are referred to as nojuku, "people sleeping in the open air." In the evening, I ascended the Umeda Sky Building -- the elevators and escalators in glassy tubes were kinda scary! Nice views, though.
Jan 30
Checked out of the Oaks Reaze, and rode a limited express for hours, over a long bridge onto the island of Shikoku (my first time off Honshu) with eventual arrived at Matsuyama. After a ride on one of the great old trolley-cars, secured lodging at the Sunrise (a business hotel chain). My ultimate destination was the Dogo Onsen, but it was still afternoon so I went up to Matsuyama-jo (photos on my castles page). It's on top of a hill; I paid a little to ride the funicular (or 'ropeway' in the local jargon) up

to the top. After walking back down I spotted a Baskin-Robins, triggering desire for a cone of Musk Melon (which I read of in Confucius Lives Next Door -- author T.R. Reid characterized this flavor as "sublime" and unfortunately, I've never seen it available, stateside). Here's a view, inside that BR. I scoff at how some novice Japanese tourists delight in a visit to McDonald's, finally satisfying their craving for some familiar food, and enjoying the subtle differences; and yet, now you know I can be guilty of similar behavior. (But McNasty's? Gag -- never eat there stateside; the only reason to darken their door, either at home or abroad, is to use the toilet.) As I emerged, a small truck whizzed by, bearing this slogan:

MY TIME &nbsp MY RELAX MY HAPPY


Had some tasty sushi in a place that was empty when I entered, but immediately after a family came in and they all started smoking -- ick! As I was leaving, somebody made an order which required the help to approach a stone-lined pool I'd overlooked, just by the entrance -- thought it was just a fountain, but there were fish in there, and he used a net to scoop one out, which he was soon cleaning behind the sushi bar. Now, that's fresh!

Back to the Sunrise, to put in my contacts, in preparation for my second sento experience. Rode the tram out to Dogo, walked up the shop-lined street to the grand old structure, got naked in the locker room, and thence into the big bath. As I was leaving, an older guy asked me if the water was too hot ("No, I think it's great"), and we had a conversation where he told me all about Botchan, the book I'd just finished. It's the story of young man who ventures from Tokyo to the sticks (of Shikoku island) to take on a job teaching math to middle school kids, a hundred years ago. Some reviews refer to it as the Japanese Catcher in the Rye but I found its charms somewhat elusive. The protagonist (nicknamed "Botchan") used this very public bath, a reason why it's so famous -- and the author is so beloved, that's his portrait on the ¥1000 note. As I left I noticed the various framed stills they had on display, from the several movies made from this book.
Jan 31
With the help of a friendly native, I got onto the right bus, finding my way to the ferry-port. There I bought a ticket for Hiroshima, across the Inland Sea, back on the main island of Honshu. A note about the Ishitegawa -- it's a small ship, room for maybe a dozen vehicles down below; on the main deck, inside, there were a couple of carpeted no-shoes enclosures surrounded by chest-high partitions -- people were in there, sitting, lying down, dozing, but I sat up towards the bow in one of the seats, gazing out the window at the little lumpy islands we were passing by.
Disembarked at the port, and boarded a trolley full of uniformed school boys, eventually arriving at the center of town. At the TIC in the main station, secured lodging at the nearby ryokan Mikawa, then made haste to Peace Park -- there was just enough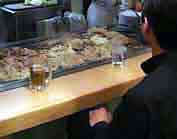 time to do the museum (photos and details on a separate page). After nightfall I wandered into a very expensive sushi bar (where I left after just two orders) and then had some okonomiyaki at a more reasonably-priced place -- in fact it was kinda blue-collar. This photo isn't actually where I ate, but at an okonomiyaki-ya upstairs from the station, and it's atypical -- the grill's covered with okonomiyaki; usually there's less than one per customer cooking at any given time.
Feb 1

I'd reserved a seat on the bullet train back to Tokyo -- this journey would take six hours, but I didn't leave until just after noon, so I walked around downtown Hiroshima some more. Note the Beatles in this photo, on the left (next to a Nova English-teaching school), and Yoko in the background, to the right (a retrospective of her work was being shown somewhere). I paused to clean my glasses outside a spectacles shop in this arcade -- they sometimes have these ultrasonic baths out on the sidewalk for passers-by to use.

Almost six hours later, I was back in Tokyo -- after checking into the Tokiwa in Nippori, I rode the Yamanote around to Ikebukuro for a final meal of kaiten-zushi, then kept going on to the Ginza -- I'd glimpsed a beautiful neon sign for Olympus, as we pulled in to the main Tokyo station, which needed a closer inspection. No picture, it was animated, impossible to capture a likeness. Then back to the hotel.
Feb 2
I didn't have anything planned in Tokyo my last day, but I'd heard the town of Narita has a big Temple complex worth visiting, so decided to go. Narita is synonymous with the Tokyo airport, and the name provokes groans from the experienced traveler, because it's so far away -- after that endless flight, you're not there yet, but must now endure a further trip of at least seventy more minutes, by rail.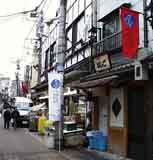 Just before my Tokyo departure I took one last stroll through the nearby Yanaka-Ginza shopping street, a place I always enjoy returning to, after first following the walk suggested by Rick Kennedy in his Little Adventures in Tokyo, in the year 2000. I was glad to snap those banners; I'd seen them while riding the private Tokyu train-lines earlier in my trip, but was unable to capture a decent image. They celebrate 400 years of Edo (the archaic name for Tokyo).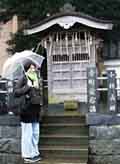 Back to the Nippori station for an hour's train ride, to Narita. Almost as soon as I'd emerged from the station, a European voice inquired if I spoke English -- I turned and met Adeline, from Versailles. She'd come into Narita proper in order to kill some time -- she had a ten-hour layover, en route to Australia. Off we went to the big temple, and it was really great (we sat in on a service for a bit), but alas, my camera's batteries went dead, so the only photos from this day are from afterwards, when it started raining. After lunch, we took refuge in a nearby temple, were she took this picture below. Then we rode back to the airport. There's two terminals, now: since she was flying Qantas, she got off first, at the newer Terminal 2. That's what all the better airlines use, but I've never been -- since I was flying American, I stayed on the train until Terminal 1, the end of the line. Upstairs, through ticketing, onto the plane and (eight or nine hours later), back to San Jose, where it was also raining.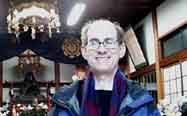 Epilogue
People ask me sometimes, how much do these Japanese jaunts of mine cost? Just as in '99, the exchange rate was the pits, almost an equal ¢ to ¥ (but then, I never think it's very good, compared to what people got before the accursed Plaza Accords of 1985 -- and it was geometrically better, years before that, in the postwar era). Anyway, expenditures for this trip totaled just about exactly $2000, if we exclude the MiniDisc unit -- and that's including airfare. Costs are dropping as I rely less on Western-style business hotels, utilizing instead the least expensive of Japanese-style lodgings.

Home | more words | Links | Misc | Contact