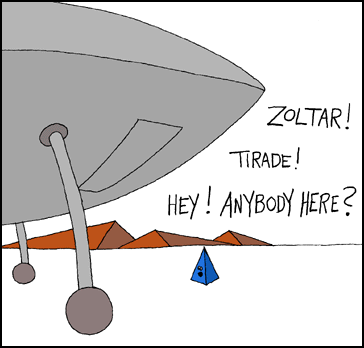 Yay! We have new products! Not only did the Second Edition of Fluxx arrive this week, but so did Aquarius! As a result, we've been extraordinarily busy these past seven days. We spent the weekend cleaning out our basement and turning it into a very nice Front Office, which Lori has been setting up to be our new sales and shipping area. Just in time, too, since we suddenly have lots of new stuff to sell!
Accordingly, I have completely revised the Fluxx pages, and I've finally put up some real Aquarius pages, too. I've updated the Gift Shop to reflect the new product availability, and even done some general site re-organization (as regular readers will no doubt have realized).
Meanwhile, John finally wrote about one of his strange encounters, I've put up Chapter 35 of the Empty City, and Lori has joined the WTS. Furthermore, over the past few weeks, Number 12 has added thumbnails to his photo archive, added new midis to his midi page, and has some more news from his commie pinko uncle in jail.
Anyway, Enjoy Life!