At the risk of taking the stove analogy too far, I'm putting some of our hottest Fluxx ideas together on one big griddle: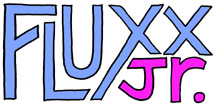 Fluxx Jr.: At the moment there are only two Fluxx Jr. alpha decks in existence. I have one and the other I gave to my niece and nephew, Sharon and James, for them to playtest. Even so, we're feeling like the game is close enough to go to the printers, at least for an initial trial print run. We've talked about holding off on this until the distant future, until after the grand color redesign we're planning for Fluxx 4.0, but we've decided that it makes sense to go ahead and publish Fluxx Jr. in the classic style of the current edition, so that they can be easily combined. The Fluxx Jr cardlist (which I plan to post soon) includes a fun set of kid-oriented Keepers (with Goals to go with 'em, of course) including the House, the Playground, the Tree, the Dog, the Cat, the Mouse, the Stick, the Ball, Cheese, and Rain. Fluxx Jr will be a smaller sized version of the game as well, with a total of only 55 cards. The other card types included will be just the core set of really important New Rules and clearly needed Actions. There will also be a special pair of theme-related New Rules, the Child Bonus and the Parent Bonus, these being cards that give you a perk on your turn if you are either a child or a parent.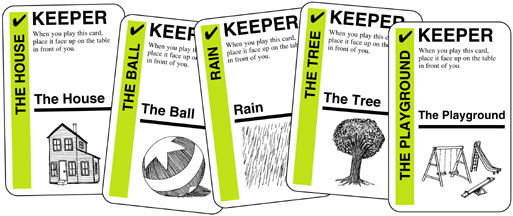 Update: Check out the preliminary Fluxx Jr. card list!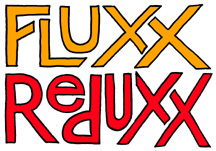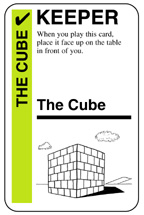 Fluxx Reduxx: One part sequel, one part retread, and one part experiment, it all adds up to something we're currently calling Fluxx Reduxx. Similar in many ways to Fluxx Jr, this will be a slimmed-down stand-alone version of Fluxx, with all new Keepers and Goals and with just the most standard and important Rules and Actions. It's a sequel in that it's a whole bunch of new Fluxx cards for the fans who've been craving new stuff, which can be combined with the original or enjoyed standalone; it's a retread in that the core game is the same, and many of the "new" Keepers and Goals are cards that have previously been seen in promo card form or in earlier editions of the game; and it's an experiment in that we're interested in seeing how well people like this leaner, simpler, smaller version of the game. Also, Fluxx Reduxx (and Fluxx Jr. too) will feature a couple of cool all-new Action cards we've been trying out lately, these being Jackpot! (which lets you draw 3 more cards right away) and Choose a New Rule (which lets you seek out and play your favorite rule from either the discard or draw piles, reshuffling the former into the latter thereafter).
Update: Check out the preliminary Fluxx Reduxx card list!
Fluxx 3.1: As more and more people buy Fluxx decks, the day when we need to reprint again draws ever closer. When next we do, there are several little corrections we plan to make to the most recent edition (version 3.0) of this, our flagship product. I need to get caught up on the Fluxx mailing list to see what else might need correcting, but I know we've already got several tweaks planned, including redesigning Go Fish and dropping the always confusing I Need a Goal in favor of the always fun Jackpot. Of course, Fluxx 3.1 will also include the cool new Basic Rules card, plus we plan to revise the display carton, making it more generic, so that we can use it for original Fluxx as well as for Fluxx Jr, Fluxx Reduxx, or even a combo pack.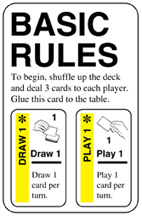 The Cool New Basic Rules: As just mentioned, we have a cool new version of the Basic Rules card, which all of these new editions will include. It has a bold new design which was inspired by the GrundRegel card created by the Germans for German Fluxx. We think the new Basic Rules card is so cool, we'll probably publish it as a promo card, since everyone will want one to snazzy up their existing Fluxx decks. Perhaps it will be this summer's all purpose Fluxx promo.
Pandora's Box: The Fluxx Jr. box described and depicted on the previous issue of the stove has been deemed unworkable. However, with Fluxx Blanxx and all the promo cards we've made and the tendency for the cardboard boxes to fall apart after heavy use, we're still working on a way of providing our fans with a better, stronger Fluxx box. Pandora's Box will be a really cool little wooden box, big enough for a Fluxx deck with lots of extra cards, with Fluxx embossed somehow in the wooden lid, and with a special new promo card inside that's available nowhere else: an Action called Pandora's Box which requires you to flip and discard as many cards as are needed to find 3 New Rule cards, all of which are immediately put into play. We found a perfect box supplier at the last candy show we went to in Philly, so Pandora's Box will be arriving in the Dangling Carrot as soon as we can get it together to order the parts we need for it.