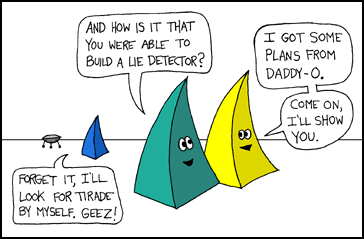 It's Official! Looney Labs is hiring an employee! Lori Denn (sister of Gina) is moving to Maryland to work for us this summer. This will be astounding news to some of my readers, so I'm going to use most of this page to explain the events leading up to this announcement. But first, the low-down on that which is new.
For starters, I've done the long-awaited update to the Gina and her Sister E-book, which I've reformatted and expanded into 2 volumes, the new one being called The Summer of Lori. Also, I wrote a new essay: Our Children vs. The Terminally Ill. Elsewhere in Toasterland, CZ has expanded her site again, including everything you could want to know about The Flying Eyes, and Number 12 has expanded his new E-book into an entire E-bookshelf. Plus we're up to chapter 31 in the Empty City and the third to last story in My Secret World, How Rocky Escaped from Prison.
Now then, about Lori. Those who've read the mission statement at the bottom of the Gift Shop page understand what our company's philosophy has been up to this point. Our goal is to be a design studio, test marketing new gift products and peddling the good ones to larger companies, thus letting someone with superior resources and marketing skills handle the sales work, while we just collect a royalty. This business model is already working well for us, what with I.C.E. bringing out the second edition of Fluxx. As we move to release our next product, Aquarius, we anticipate a future in which we license those rights out, just as we did before.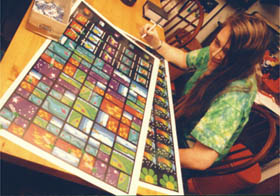 But while our business strategy worked exactly according to plan with Fluxx, we've been considering a different approach for Aquarius. Rather than stopping as soon as the first edition sells out, why not really make a go of it? With Fluxx, fear of getting in over our heads caused us to pass along the rights as soon as it became clear to us that we had a potential hit on our hands. A lot of the reason for that decision was a desire to move on to our next project (Aquarius) and not get bogged down on maintenance of a proven winner. Since Looney Labs has always been just me and Kristin, we didn't have the time or manpower available to push Fluxx and produce Aquarius at the same time.
But now, things are different. Now we have a track record and better funding. So, we've decided to hold onto the work of selling Aquarius, at least for a while. For one thing, the timing demands swift action. The retro-sixties look is very "in" right now, and Aquarius is designed to tap into that market. Since fads and fashions change with the seasons, we can't afford to waste any time. This summer needs to be the Summer of Aquarius. Moreover, we learned a lot from what we did with Fluxx, not to mention all our years with Icehouse, so we think we are ready at last to really try to make a go of it as a game company. At GAMA, Kristin started a full-on effort to line up distributors, and later today we expect to receive 10,000 copies of the adslick we're mailings to store owners and retailers through those new distributors. We're ramping up to a scale of business that we've never dared approach until now. We're gonna be swamped. It's scary.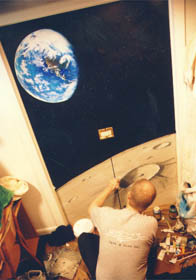 Luckily, given the success we've had with Fluxx, we have the resources available to hire someone to help us when Aquarius ships and our lives get crazy. So, when we heard Lori was looking for a job, we offered her one, at least for the summer. From a business standpoint, it just made sense. Because in addition to helping us run the business, she'll also be on call for photos whenver I feel like shooting film, which not only means there'll be plenty of new photos of her appearing here over the summer, but also that she's going to be the poster girl for Aquarius when we start doing magazine ads.
The printing of Aquarius is going very well so far, by the way. We signed off on the cromalin proofs for the cards a few days ago, which means they could go to press by the end of next week. Lori might even get to visit the factory to see our cards being printed, during her trip up the coast. More on that story as it develops.
Until next week,

P.S. In other news, Lee Moyer painted a viewscreen for the room at Wunderland.Earth which we call the Bridge.