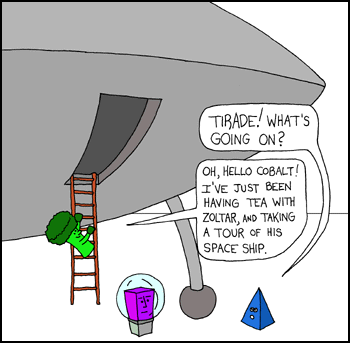 It's been another busy week here at the Lab, which means I haven't had as much time as I'd like to add new stuff to the website. One thing I did add is the rules for Fluxx as they appear in the Second Edition; in the First Edition, we crammed 'em all onto a single card, but they proved to be a bit too spartan that way. Those who have First Edition decks may find the new, plumper rules helpful.
In previous weeks I've made casual references to my Secret Titanic Project, but this week it is a secret no more. It's real title is Right to the Bottom, and the alpha version is finally nearing completion. For months now I've been doing pre-production work, but this week I finally started creating the tape. I'm averaging about 15 mintues a day, and it's about a third done.
The number of residents at Wunderland.Earth has gone up again... Lori went back to Florida for the weekend and returned with her cat Shana, thus bringing our feline total to 5.
Gina's play (A Connecticut Yankee in King Arthur's Court) debuted this week - we all went on Opening Night and had a great time. Those of you who are local should get on down to the Greenbelt Arts Center during the next couple of weeks and take in a performance.
In this Nomic game I'm in, I've just been elected President of the World! The game is becoming extremely interesting; check out the current set of rules and you'll see what I mean.
Lastly, there's Chapter 36 of the Empty City. Oh, and Number 12 says he's found the most amazing midis ever on the web.
Anyway, Enjoy Life!