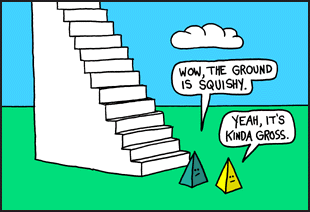 First, the New Stuff:
---
Kristin's been working on upgrading the gift shop for quite some time, and the new version has lots of great features. The new order form does automatic calculation of totals and shipping (thanks Michelle! And hey - congrats on that wedding!), plus automatic email response generation (I'm so sick of doing that by hand), and I drew a new graphic (featuring an entire building designed to match our signpost logo, done in an architectural style known as "Googie"), and a special 3 cartoon sequence of Tirade shopping, checking out, and getting his receipt. Of course, since it's new, there may be some bugs to work out, so if you have trouble ordering something using the new interface, the old one is still available.
---
John's new game IceTraders is very cool. It's a sort of Zarcana/Chess/Werewolf style game that takes place in a kind of StarWars/Trek/Known-Space/Foundation universe. It features a fascinating new way to position and interpret icehouse pieces: ones that are standing upright are stars; those lying on their sides are space fleets. What's more, the way a piece is positioned determines whose it is: pieces pointing away from you are controlled by you. This game has been years in the making, and is now ready for Beta playtesting. Give it a try!