---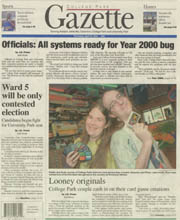 Earlier this week, I had the decidedly surreal experience of going out to bring in the free local paper that's tossed on our sidewalk each week, and looking down to see my own face staring back at me from the front page -- in full color no less. I knew an article about us was forthcoming, but I hadn't expected it to be front page news... I guess there wasn't much else going on this week.
Needless to say, we were very happy with the article, and not just because of its prominent placement. It's quite well written and contains very few errors. (The main inaccuracy I noted was that it was Aquarius, not Fluxx, that I created at Kristin's request - a statement ironically prefaced with the rejoinder "in fact".) The reporter did a good job, calling up both Pete Fenlon of Ice and Steve Weinreich of Mensa for quotes. I especially like this one from the latter: "You haven't seen this game before. It's as simple as that."
The article appeared last Thursday; since then, we've gotten numerous emails, phone calls, and even cards in the mail from friends, neighbors, and assorted voices from the past, either congratulating us on the award, or the article, or both, or otherwise just being happy to finally learn more about what goes on in that purple house up the street.
---
Icehouse news: Jake has volunteered to run the Tenth Icehouse Tournament at Origins this July 4th weekend, and Dan Efran has announced a design contest for the prize medallions for that tournament. See his "Design The Medallions Competition" web site for the rules and such like. Meanwhile, Eric Zuckerman is organizing the first ever West Coast Icehouse Tournament, to be held at BayCon, in San Jose, on May 30th, 1999, at 2:00pm. See his Tourneyette page for more info.
---
Closing the Feedback Loop: Last week I mentioned that we're floor-centric; in response, Rash clued me in to a Japanese word used to describe folks like us: jibetarians. Also, Daddy-O expressed fascination with the digital rain seen on monitors in "The Matrix"; turns out a digital rain screen saver is available. I'm disappointed with it though, as it's a fairly crude simulation of what appeared in the movie. Rather than appearing as a set of vertically descending cursors that deposit characters as they flow down the screen, it's more like a bunch of long strips of green characters, with a white one at the end, that slide down (rather jerkily) from somewhere up above the window. But it's still cool, and it was easier than building one myself...
---
Local Reader's News Corner: This Saturday, Alison is helping run an event called Discovery Day, at the place she works, the American Horticultural Society at River Farm, just south of Alexandria. If you've got kids and you live in the area, you should put this on your schedule for the weekend. Alison is rounding up old socks for grass-head guys, and is making seed wreaths, a two level scavenger hunt, and a human sundial, so it should all be great fun. It's this Saturday, April 17th from 9-3.
Also, is anyone looking for a housekeeper? Rosa has been cleaning our house every two weeks for almost 9 years now, so we can attest to her thoroughness and reliability. But she's recently moved into a much nicer and larger apartment and now needs additional clients to pay the accordingly larger rent. If you've never experienced the joy of having someone clean your house for you, you ought to consider it; if your home is DC metro accessible, send us email and we'll send you Rosa's phone number.

---
All my dreams are coming true! Last January I mentioned that we'd gotten the cable network TV Land, but that what I really wanted was Public TV Land, a channel for classic re-runs like the Electric Company, Zoom, and the first few seasons of Sesame Street. Well, this week TV Land started airing commercials for Noggin, a new network from Nickelodeon and the Children's Television Workshop, that seems to be just what I was looking for! As a promotion for the launch of Noggin, TV Land will be airing a 2-hour Electric Company "best of" type special, on April 26th. I'll finally get to see the Silent E cartoon again! (Of course, the next step will be waiting for our cable company to add Noggin... but we don't even have the Game Show channel yet, so who knows how long that'll take.) And speaking of TV Land, they're now showing the animated Star Trek series on Saturday mornings, as part of "Super-Retro-Vision Saturdays."