Your Guide to Wunderland
New this week: Chapter 84, in which Jim stumbles upon a rift in the Television Barrier
---
lambent (lam'-bent) adj. 1: playing lightly on or over a surface :flickering. 2: softly bright or radiant 3: marked by lightness or brilliance (esp. of an expression)
---

Never Been Kissed :-|
Never Been Kissed

This credulity- straining date movie reminded me once again that, just once, I'd like to go to a costume party where the guests are all as well-costumed as they are in Hollywood versions of costume parties.


---



---





---

Comments?
Send email to LooneyLabs
---

Thursday, April 29, 1999

---

---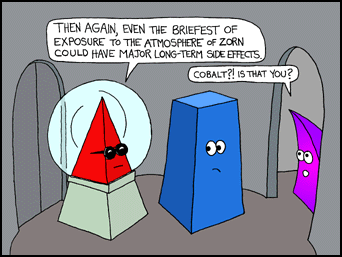 ---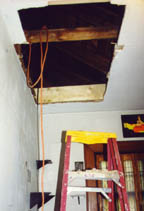 Earlier this month, I mentioned that a bird had come to roost in our house; this week, the bird was joined by its owner, Alison, along with half a dozen fish and a whole bunch of her stuff. Alison has been staying with friends since finishing up grad school in February, and having imposed on Jen and Michael long enough, she's decided to live in our guest room for awhile, until she finds a steady job and gets a place of her own.
Meanwhile, we have this week begun placing orders for the first batch of games we'll be carrying at Contagious Dreams, and the inventory warehousing problem this creates for us has driven us to do something we've been talking about doing for years: making use of our attic.
We've never been able to do anything with our attic before, because it lacks a floor and can only be entered through a tiny entry panel. So we asked Ed, our friendly neighborhood general contractor, to cut a new, larger hole in the ceiling and install one of those pull-down ladder entryways, and to nail down some rough flooring so that we can store a bunch of boxes up there. Naturally, we'll have to be careful not to store heat-sensitive junk up there, since attics tend to get pretty warm in the summertime, but it'll be a lot less expensive and more convenient than renting a storage space.
---
ContagiousDreams Update: Things are going very well, but... we've decided to slip the schedule a week. Kristin's got the ShopSite software up and running and has been using it to rebuild the Looney Labs storefront. When the new store opens, both stores will be run using the new software, under an overall roof we're calling the Wunderland Shopping Center. Kristin loves the software, and the stuff she's built with it so far looks really grand. However, there's still so much work to be done that we've decided to give ourselves a little more time... we're moving the opening date for the new stores back to May 13th. Sorry!

Don't forget to play!
---

Robin lost her other cat, Mandy, this week. (As with many pairs of life-long companions, Mandy gave up the will to live when Tash died earlier this month, even though he'd lived years longer than the vet had predicted...)
There's currently an ad on TV for the new soft drink Citra, which features a gangster named "Cotton Mouth." Is the Coca-Cola company unaware that this is a term used by thirsty pot-smokers, or is this a subtle attempt on their part to appeal to that segment of the beverage-consuming market?
Like Jim in this week's Empty City chapter, I was struck down by the flu bug this week. (On Tuesday, I had a fever of 100 degrees.) So if this week's update seems a little lightweight, that's why.