Your Guide to Wunderland
New this week: Chapter 85, in which Dave regrets throwing away the strange black package
---
lagniappe (lan'-yap, lan-yap') n. a small gift given a customer by a merchant at the time of a purchase, broadly: something given or obtained gratuitously, or by way of good measure.
---

Sirens :-)
The Truman Show

I saw this mindblower last summer and liked it so much I made myself a pin like the one in the film, reading "How's it Going to End?" Now I finally have it on video and I'm half-watching it over and over again. (Alison said recently, "You watch movies like other people listen to albums.") But I see I didn't get the button design quite right; the real one used a non-serifed font, with the text in all caps.


---



---





---

Comments?
Send email to LooneyLabs
---

Thursday, May 6, 1999

---

---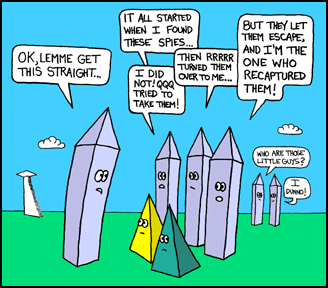 ---
Contagious Dreams Update: We still have a frightening amount of work to be done, but we're making great progress and should be ready to open the new store by next week. Not that you can tell from looking at the site... much of what we've been doing lately is invisible infrastructural-type stuff. Kristin's been building an incredible new automated system for us, which is going to streamline our order fulfillment process and allow us to handle much greater sales volume with more efficiency than ever before.

Ever since the days of Icehouse Games, we've been doing much of our business management the old fashioned way: using carbon-paper technology to create hand-printed sales receipts, writing out mailing labels by hand, and entering sales into the accounting program on the computer at the end of the quarter (or the year, if we're really far behind). As our sales volume has increased over the past six months, this has become increasingly tiresome. So, Kristin has finally gotten around to putting her Information Systems expertise to good use, and has built us a system that will dump new sales data directly into our database, and allow us to print up beautifully formatted sales receipts, complete with a peel-off mailing label. It's gonna rock! (She's also been printing up lots of nice looking purchase orders... the process of stocking up on inventory is underway!)
---
Fluxx Update: The Bad News is that the blanks we've been expecting any day now seem to have vanished without a trace. Carta Mundi says they were printed, but now they are nowhere to be found. But the Good News is that sales are going great... ICE has already sold 60% of the print run, and has started planning for the Fourth Printing. And they promise that this time, we'll get blanks.
---
This week I finally unearthed the originals for a slim little children's book I created for the Empire Publications label back in 1988, entitled The Cake that Baked Itself. Even then I took delight in depicting characters without arms who somehow perform amazing feats, so fans of my current cartooning effort will be eager to see this humorous tale of a bunch of pantry staples who cook themselves into a birthday cake. It's available now in our gift shop for just $2.

Don't forget to play!
---

I hear they're making a new Spiderman movie. I hope they can get Elton John to play Doc Oc... he looks just like him!
"Ideas go BOINK when they bounce off of other people." - Alison
A pet peeve of mine is the phrase "software program." It's redundant! All computer programs are software. That's what software is: a computer program. So referring to a piece of software as a "software program" is like calling a refrigerator a "refrigerator icebox".